Submariner's grudge turned proud day into tragedy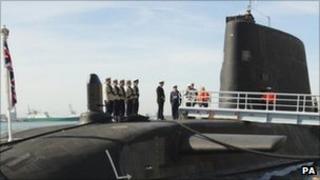 A sailor has been jailed for life after pleading guilty to murdering a senior officer on board a nuclear submarine. The incident marred what was supposed to be a proud day for the city of Southampton.
On the morning of 8 April 2011 the mayor, leader of the city council and other dignitaries were touring the £1bn HMS Astute, one of the Royal Navy's fleet of hunter-killer nuclear submarines.
The vessel was at its mooring in the Eastern Docks and in the afternoon a group of excited schoolchildren were to be shown around.
Tragically, the visits came on a day when a 23-year-old sailor's simmering grudge against his superiors boiled over with deadly consequences.
Able Seaman Ryan Donovan fired seven shots with his SA80 service rifle, killing Lieutenant Commander Ian Molyneux and injuring several others.
He was finally overpowered by the "heroic" leader of Southampton City Council, Royston Smith.
Donovan, who hoped to become a rapper with the stage name Reggie Moondog, was described in court as "immature and moody".
The lyrics to one of his rap songs may have hinted at what he was thinking of doing: "Tell the quartermaster. I caused disaster. SA80 - more palaver."
The sub had docked in Southampton on 6 April and Donovan had spent nearly two days drinking in the city.
When he reported back for duty at 3am on 8 April he was drunk. He told a crewmate: "I am going to kill somebody" and warned another friend to "watch the news".
His friend dismissed his comments as a joke.
When he woke up in the morning Donovan volunteered for guard duty and after passing a simple sobriety test - which involved an officer smelling his breath - he was assigned the gun.
Within minutes Lt Cdr Molyneux, 36, a father of four from Standish near Wigan, was dead and Councillor Smith, a former RAF engineer and Falklands veteran, was grappling with the seaman.
Winchester Crown Court heard the death toll from the incident would have been greater if it had not been for Cllr Smith, who was on board with the Mayor of Southampton, Carol Cunio, and the council's chief executive, Alistair Neill.
Mr Neill told the BBC: "I thought he was trying to kill us all. I was next in line - I was the next person he would arrive at.
"He arrived with the weapon pointing at us. Then he moved it a few inches to the left."
He said: "Now there's just an overwhelming feeling of sadness that out of thin air a fine man had his life taken away.
'Justice done'
"I believe justice has been done and I remain deeply sorry for the family."
Nigel Lickley, QC, prosecuting, said Donovan walked along a corridor and suddenly fired shots at two officers - Petty Officer Christopher Brown, 36, and Chief Petty Officer David McCoy - but miraculously missed them.
He said: "Lt Cdr Molyneux reacted to the noise of the shots. As he turned to tackle the defendant he was shot in the head at very close range and died instantly.
"There appears to be no reason at all that he chose to shoot Lt Cdr Molyneux other than the officer was trying to stop him. There was no history between them, they did not work together."
Lt Cdr Molyneux's widow, Gillian, wept as she heard of the circumstances leading up to her husband's death.
Donovan then entered the control room, where the party of VIPs were being shown around, and fired at Lt Cdr Hodge, who was seriously injured.
Mr Smith, assisted by Mr Neill, then tackled him.
Mr Neill, who said he feared it was a terrorist attack, described Donovan as he entered the control room: "The look on the face was of someone whose head was in another place, like they were in a dream, like they were in a faraway place, like they were doing this in a video game".
It has since emerged Donovan had a grudge against several senior officers.
He was supposed to have cleaned a part of the sub but had disobeyed orders and was then refused a transfer to the Royal Fleet Auxiliary ship Cardigan Bay.
He bore particular resentment towards the two petty officers and told police afterwards he was "gutted" he had lost the attachment to the Cardigan Bay and said: "I just felt that everyone was out to get me."
The shooting was not the first time the sub has hit the headlines.
In November 2010 the captain, Commander Andy Coles, was relived of his command a month after the sub ran aground near the Isle of Skye as it returned to the Faslane naval base on the Clyde.