Phone hacking: Attorney general 'must approve Milly leak charge'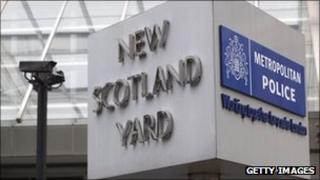 The attorney general must consent to charges being brought under the Official Secrets Act in the phone-hacking leak probe, his office says.
The Met is looking at possible breaches of the act in relation to leaks to the Guardian newspaper about murdered girl Milly Dowler's phone being hacked.
Police want it to reveal its sources.
But even if police find enough evidence to bring a charge under the act, the attorney general still has to decide if prosecuting is in the public interest.
The Guardian has said it will resist the "unprecedented legal attack" by the Met Police.
Misconduct
A spokesman for Attorney General Dominic Grieve's office said: "It is a matter for the police to decide how best to carry out any investigation.
"If the police provide evidence that would support a charge under section five of the Official Secrets Act the attorney general's consent would be required.
"If that stage is reached, the attorney general, with the DPP (director of public prosecutions), will consider whether there is sufficient evidence and whether the public interest is in favour of bringing a prosecution."
The Met Police has applied for a production order against the Guardian and one of its reporters "in order to seek evidence of offences connected to potential breaches relating to Misconduct in Public Office and the Official Secrets Act".
Lib Dem MP Don Foster, the party's culture spokesman, said on Sunday that Mr Grieve should use his discretion to rule that invoking the Official Secrets Act was not in the public interest.
"I understand the attorney general has the opportunity to use this power," Mr Foster told the Guardian.
"He should use it and say this is not in the public interest."
The Guardian's report in July about Milly Dowler's phone being hacked re-ignited phone-hacking scandal, leading to the News of the World's closure.
The Metropolitan Police's Operation Weeting is investigating claims of phone hacking at the News of the World.
According to the paper last week, police are due to go to the Old Bailey in London on 23 September, in an attempt to force the handover of documents relating to sources for a number of articles.