TV licence excuses include postman affairs and sunlight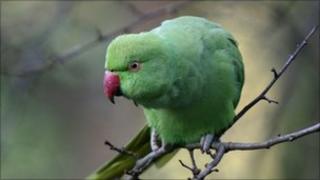 Affairs, naughty children and sun allergies have all been offered as excuses for not paying a TV licence.
TV Licensing has also been told that a parakeet was the only one to watch TV in the house, and that wedding plans took priority over paying the licence.
The agency said it had caught more than 256,000 people watching TV without a licence so far in 2011.
A colour TV licence costs £145.50, and a fine of up to £1,000 is possible for non-payment.
The top 10 excuses as defined by TV Licensing were:
"Since I had a bit of a fling with the postman I haven't been receiving my mail so I didn't get my TV licence reminder."
"No-one watches TV apart from the parakeet. It calms him down and stops him ripping out his feathers."
"I went to the PayPoint to pay for my licence, but I had to leave before I could pay as my kids were stealing sweets and I had to get them out fast."
"My Payment Card fell in the toaster so I had to iron it and now the PayPoint machine won't accept it."
"I can't afford a TV licence now as the repayments on my brand new car are cleaning me out!"
"I never got the reminders because my two-year-old hides all my post in her toy box".
"I would have to sell my TV to pay for a licence so I can't do that."
"I don't need a TV licence, I already pay for my electricity bill."
"I'm getting married and am too busy picking flowers, colours and things to buy a TV licence."
"I cannot go out to buy a licence because I am allergic to the sun."
The excuses were given to TV Licensing's inquiry officers and call centres by people who should have a TV licence.
It is a legal requirement to have a licence if you watch or record TV at the same time as it is broadcast.
A TV Licensing spokesperson said: "Some evaders are very inventive with their excuses which can be quite entertaining. But the point is that watching or recording live TV without a licence is against the law.
"In fairness to the honest majority of people who pay the fee, we will prosecute those who try to avoid it."