Director Michael Winner marries in London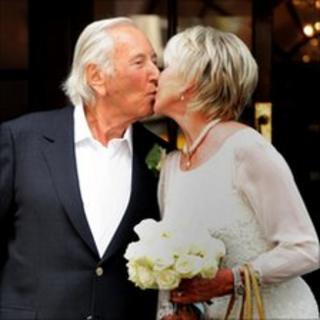 Film director Michael Winner has married his fiancee, whom he met over 50 years ago, at a ceremony in London.
Winner, 75, who is also a food critic, and Geraldine Lynton-Edwards, 70, married at Chelsea Old Town Hall, following a four-year engagement.
They met in 1957 when he was a 21-year-old film-maker and she was a 16-year-old actress and ballet dancer.
Among the guests were Sir Michael Caine and his wife Shakira, who were witnesses to the ceremony.
The newlyweds kissed as confetti was thrown when they appeared on the steps of the town hall just before 14:00 BST.
Mr Winner said it felt "terrifying but wonderful" to be married after so many years.
Respectable man
The couple will honeymoon in Portofino on the Italian Riviera.
When he announced his engagement in August he explained: "I turn 76 in October and I have never been anywhere near marriage before. It took a long time for a bit of common sense to enter my befuddled brain.
"Geraldine is great fun and she has been with me through difficult times, and now she's making a respectable man of me.
"I think she's very pleased. After a while, when someone is that close to you and you love them, the question is: 'If you love me, why aren't we married?'
"I think the celebration happens in the mind. We're celebrating each day," he added.
The Sunday Times restaurant critic has directed more than 30 feature films including the Death Wish series starring Charles Bronson.