First England riot appeals to be heard next week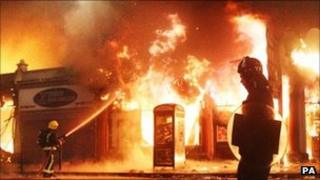 The first appeals by those convicted over the riots in England during August are to be heard next Tuesday.
The Court of Appeal is expected to hear 10 people's appeals against the sentences they received for convictions over the rioting and looting in August.
The Judicial Office said their names would be confirmed on Monday. A further two appeals have also been lodged.
More than 1,700 people have appeared before the courts since the riots. More than 300 have been sentenced.
Burglary most common
Violence broke out in the north London borough of Tottenham last month after a protest over the fatal police shooting of local man Mark Duggan.
Between 6 and 9 August, the disorder spread to several other English cities, including Birmingham, Manchester and Nottingham. Shops were looted, buildings burned and the deaths of five people have been linked to the rioting.
Ministry of Justice figures released last week showed that burglary was the most common offence relating to the riots. It accounted for 44% of charges, compared to violent disorder at 22%.
Just over half those who had appeared in court were aged 20 or under.