Hacking MPs to quiz Met officer over Guardian legal bid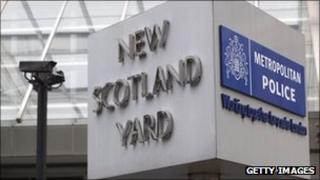 MPs are to question a senior Met Police officer over a decision to drop a legal bid to force the Guardian to reveal its sources for phone hacking stories.
The Commons home affairs committee will summon Deputy Assistant Commissioner Mark Simmons to give evidence in a private meeting on Friday.
The Met is looking into allegations of leaks by officers investigating hacking at the News of the World.
Earlier, Mr Simmons defended the "robust" investigation into the leaks.
Committee chairman Keith Vaz said he wanted to know what had been done to prevent any further leaks from Operation Weeting, the name given to the phone-hacking investigation.
Official Secrets Act
On Tuesday, the Met said it had decided not to pursue its legal bid against the Guardian after consulting the Crown Prosecution Service.
Guardian editor Alan Rusbridger welcomed the decision but accused the Met of threatening reporters with the Official Secrets Act to try to get round the protection of journalists' confidential sources.
Last month, officers looking into allegations of leaks to the Guardian arrested an unnamed 51-year-old detective constable.
He was suspended from work and bailed until 29 September, pending further inquiries.
Under the Police and Criminal Evidence Act, the Met had applied for a production order against the Guardian newspaper and one of its reporters.
It also said it was investigating whether an officer from Operation Weeting may have breached the Official Secrets Act by passing on information.
In a statement, Scotland Yard denied there was any intention to "target journalists or disregard journalists' obligations to protect their sources".
Speaking on BBC Radio 4's Today programme, Mr Simmons said he acknowledged the Guardian's role in covering events, from phone hacking to the Met's response to it.
However, he said the Met was now having to ask itself how to ensure public confidence in its officers and their handling of information given in confidence.
"That's why we undertake robust investigation into incidents of leakages," he said.
He added that there had been difficulties finding a "new balance" in the Met's relationship with the media following recent revelations.
Mr Vaz said: "I have asked the Metropolitan Police to give the committee a full explanation of why they took the decision to invoke the Official Secrets Act and to provide us with a timeline as to exactly who was consulted."
He said he also wanted to know what had been done to prevent any further leaks from Operation Weeting.
"It is essential that we get the full facts," he added.
The Guardian's report in July about Milly Dowler's phone being hacked re-ignited the phone-hacking scandal, leading to the News of the World's closure.
News International, publisher of the News of the World, is understood to be close to a £3m compensation deal with the Dowler family, which could include a £1m donation to charity.