UK dilemma over Palestinian UN bid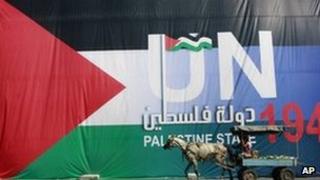 Palestinian President Mahmoud Abbas is determined to bring Palestinian membership of the United Nations to the Security Council this week.
The Obama administration has signalled equally emphatically that, if Mr Abbas pushes for a vote, then the US will, if necessary, use its veto to block the move.
So with a clear gulf between Palestinian aspirations and what they are likely to achieve in New York, what should other key members of the Security Council, such as the UK, do?
For now, Britain is not saying how it might vote; neither in the UN Security Council nor if the Palestinians seek a more general upgrading of their status, in the broader UN General Assembly.
But Foreign Secretary William Hague has made it clear that the Palestinian quest for UN membership is not a course of action that Britain recommends.
"It will just lead to confrontation," he says, and such a move in the Security Council would clearly be vetoed by the United States.
In essence Britain is keeping its powder dry.
As Foreign Office minister Jeremy Browne notes: "You don't show your hand at the beginning of negotiations."
The UK government, he says, "is taking a studied and considered approach".
Back to basics
Despite criticism, diplomats insist they are not simply sitting on the fence.
How Britain votes matters. Issues of politics and diplomacy are closely bound together.
An outright "no" vote would go down badly in the Arab world where Britain has sought to portray itself as a champion of change in the region.
Some analysts wonder if an abstention would be any less damaging.
British ministers are clearly trying to shift the focus towards the UN General Assembly, eager to help shape the content of any resolution that may be tabled there.
Over recent days British officials have pursued a kind of back to basics approach, stressing their fundamental policy goals.
Earlier this week, speaking from the UN where he was already heavily involved in talks, Mr Hague made it clear that Britain wanted to see a return to negotiations to establish a viable Palestinian state alongside a secure Israel.
At issue is how to use this General Assembly session to bring about such negotiations.
Within the General Assembly there is almost certainly a sufficient majority to give the Palestinians permanent non-member status, similar to that afforded to the Vatican.
But it is the content of any resolution that will determine if Britain can back such a move.
It clearly wants to see such a step prompting not a new cold war between Israel and the Palestinians, but a return to the negotiating table.
Could careful wording square the circle, providing a text that upgrades the Palestinians' standing but also addresses some of the key concerns of both parties?
With some US commentators speaking of a diplomatic train-wreck at the UN this week the stakes are high.
This is "one of the most vexing, one of the most intricate, one of the most difficult problems in international affairs", says Mr Hague.
But equally he argues that "the consequences of failing to arrive at a two-state solution could be catastrophic for the Middle East and the wider world".
That's why, for all the problems, he insists that diplomats must keep trying and still have a belief that it is possible to succeed.