Chances 'missed' to stop banned activist entering UK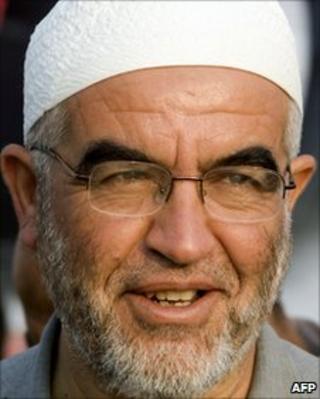 Border officials missed six chances to stop a banned Israeli Arab activist from entering the UK in June, Home Secretary Theresa May has said.
Sheikh Raed Salah, 52, leader of the Islamic Movement of Israel, was held in London three days after his arrival.
He said he was unaware of a ban and is seeking damages for unlawful detention.
A new system of alerts to UK ports and overseas offices will be brought in after an inquiry into the case by Her Majesty's Inspectorate of Constabulary.
The HMIC probe found "insufficiently robust processes" at the UK Border Agency resulted in missed opportunities to intervene both overseas, during Mr Salah's journey to the country, and once he had arrived.
Mrs May said the new system would "deliver active, high level, cross-UKBA management of exclusion cases such as Salah and ensure that there is a clear and single point of responsibility to coordinate action in all ports of the agency and overseas, at the border and in the country - to prevent the entry of those we exclude".
The Chief Inspector of Constabulary, Sir Denis O'Connor, called for a thorough review of the system for issuing and responding to alerts, saying they should be "monitored by overseas staff seven days a week".
He also said the passports scanning process should be reviewed to ensure people subject to alerts would not be overlooked.
It was previously reported that Mr Salah's name was flagged up in a database, but the information could not be transferred to staff electronically. Instead the alert system relied on paper, which was passed to immigration officers at the wrong Heathrow Airport terminal.
'Very concerned'
Mr Salah arrived in the UK on 25 June for a 10-day visit to attend meetings and public engagements.
He was detained on 28 June after his return from a meeting in Leicester, where he had addressed a 500-strong audience, and the home secretary served a deportation notice on him.
His solicitor said Mr Salah, who was later released on bail, had "no knowledge" of the travel ban and had not tried to conceal his identity.
A two-day hearing into the damages case took place in London last week before a High Court judge.
Mr Justice Nicol reserved judgement to a date yet to be fixed.
Mrs May, who denies Mr Salah's detention was unlawful and says she acted reasonably, said the ban was intended to stop people who encourage extremism.
"I was very concerned that an individual who was excluded for unacceptable behaviour was able to enter the UK," she said in response to the HMIC report.
The Home Office said it was still seeking to deport Mr Salah, who remains on bail, on the grounds that his presence in the UK was "not conducive to the public good".
A spokesman said: "We await the decision of the court and will consider our options in light of that decision."
Mr Salah, who has Israeli citizenship, was invited to the UK by a group called the Middle East Monitor.
The UK-based Palestine Solidarity Campaign has maintained that Mr Salah was the leader of a legitimate political organisation which had rejected all forms of racism, including anti-Semitism.
The stated aim of the Islamic Movement of Israel is to advocate Islam among Arab Israelis, offer education and social services and promote a Palestinian nationalistic stance.
Israel's Arab community numbers about 1.4 million, some 20% of the population. It includes Palestinians who remained in Israel after the 1948 establishment of the Jewish state and their descendants.