How one PFI hospital covers its costs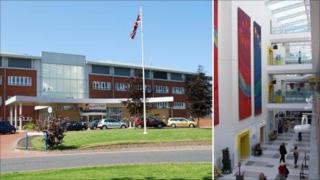 Carlisle's new hospital was a long time coming.
Throughout the 1980s and 1990s, five lots of plans were shredded.
Then, in 2000, the then Prime Minister Tony Blair finally opened Cumberland Infirmary to sighs of relief from many in the city.
It drew together services which had been offered out of three buildings - one of them Victorian - into one modern, newly-equipped hospital.
Local MP Eric Martlew said in an ideal world it would have been built with public money but that was not an option at the time.
Instead, the government agreed Carlisle would be a suitable candidate for the Private Finance Initiative (PFI).
As part of the first wave of privately-funded public projects, Health Management Carlisle plc built and financed the £67m hospital.
In that first year, the trust paid back £12.4m, government figures show.
Today, with inflation and the structure of the deal, that bill is now at just over £18m (some 8% of the current £220m annual turnover).
By the end of the 30-year contract, in 2029/30, the final annual bill is expected to exceed £25m.
This means over 30 years, the trust will have made total payments of £587m.
Each payment includes the repayment of capital, interest on the loan, and services such as maintenance and updating equipment.
Cumberland Infirmary became the first hospital built under PFI to open its doors, and was quickly held up as an example of the advantages - and disadvantages - of private sector involvement in the public sector.
Early on, the press reported how it was beset with teething problems from too few beds and crowded wards, to poor hygiene standards.
And hospital staff soon pointed the finger of blame at the PFI - under the agreement with the private company, there were constraints on making any structural changes while any internal changes cost a lot of money to carry out.
Now, the government has identified 22 NHS trusts whose PFI contracts are said to be putting them at financial risk.
Among them is the North Cumbria University Hospitals NHS Trust, which oversees Cumberland Infirmary, currently valued at just under £67m.
The trust, however, does not recognise itself as one in risk of collapse.
It says it is in talks with the Department of Health over PFI schemes and insists it has balanced its books in recent years.
Alistair Mulvey, the trust's finance director and deputy chief executive, said the hospital has gone from "strength to strength" over the last decade, with facilities and equipment maintained and kept up-to-date through PFI.
He added: "The trust benefits from a great relationship with its PFI partner and continue to work closely together to keep the facilities in the best condition possible and also to make sure that the health service receives the best value for money."