Court orders broadcasters to hand riot footage to Met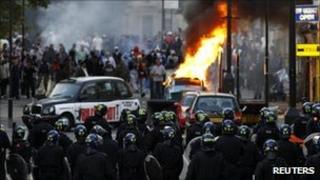 Untransmitted video from August's riots in London has been handed to police by the BBC, ITN and Sky News after Scotland Yard obtained court orders against the media organisations.
Production orders were made under the Police and Criminal Evidence Act 1984.
The Metropolitan Police said it was "identifying people through pictures, CCTV and through the media to ensure that people are brought to justice".
The BBC said material was only supplied when a court requested it.
A spokeswoman said: "Police requests for BBC untransmitted material are dealt through our legal department, regardless of the subject matter.
"We require requests for untransmitted material to be made through the courts. A production order requiring footage of the riots was served on the BBC and a court agreed that the material should be supplied."
2,000 arrests
ITN and Sky News said their policy also was not to issue unbroadcast material to police without a court order.
An ITN spokesman added: "On some occasions when the police apply to a judge for a court order to force the release of such material, we have challenged the police's application."
A Sky News spokeswoman said: "On occasions, as has happened with some of our footage of the riots, where police request untransmitted material and an order is obtained we will comply with it."
The production orders served on the broadcasters asked them to disclose "any broadcast or unbroadcast video or still pictures" of the unrest.
The Metropolitan Police, which has now arrested more than 2,000 people in connection with rioting and looting across London, is said to be studying thousands of hours of CCTV and video footage.
It is understood that similar applications were obtained in the past to make broadcasters hand over footage of previous riots, as well as other incidents including the 7 July 2005 Tube bombings in London.
Last month, a judge in Belfast told news organisations to hand over to the Police Service of Northern Ireland unseen footage of rioting in the city in July.