Newspaper review: Economic gloom dominates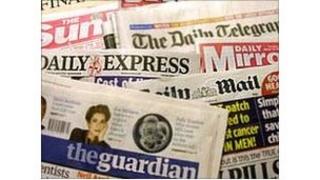 David Cameron's fresh warning over the economy is widely reported.
The Guardian says it is his "gravest" message so far, and also quotes him urging eurozone leaders to offer decisive political leadership.
The Daily Mail sees this as a "stern rebuke" after "another day of frighteningly bad news" on the markets.
It tells Mr Cameron to stop advocating military action against oppressive regimes and focus on the "real priority" of escaping "economic mire".
'Dangerous game'
Investors around the world are dumping stocks in a "flight to safety" to government bonds and the US dollar, according to the Financial Times.
The paper says this is a "dangerous game", which could itself tip the global economy into recession.
The Daily Telegraph quotes leading economist Nouriel Roubini from New York University saying the US, eurozone and UK are already in effect in recession.
The Sun reports on "another terrifying day on the world's stock markets".
'Political gain'
On a brighter note, a supermarket price war could see food bills cut by up to 30%, the Daily Express tells us.
The Independent says hospitals have accused Health Secretary Andrew Lansley of making misleading claims for party political gain over their finances.
The Guardian reports that half of the 10 police forces most likely to disproportionately stop black people will no longer note people's ethnicity.
The forces have used a change in the rules designed to cut bureaucracy.
'Bloody Belgium'
The Daily Mirror tells how a Labour peer torpedoed the party's launch of a defence report with some intemperate remarks about two Nato allies.
Lord West insisted the UK was still a first-rate military power - "not like bloody Denmark or Belgium", he added.
Finally, a Gloucestershire junior school has shown the red card to leather footballs in the playground, according to the Daily Star.
The head teacher claims lighter, sponge balls will help avoid injuries.