Newspaper review: Eurozone debt crisis sparks warnings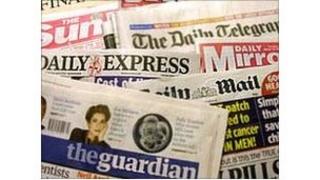 Many newspapers share the chancellor's view that time is running out to solve the debt crisis in the eurozone.
"Six weeks to save the euro" is the headline in the Daily Mail - echoing George Osborne's remarks on Friday.
The I newspaper uses even more apocalyptic language, "six weeks to save the world".
The Times believes that even the six-week deadline is likely to be too optimistic given the speed at which confidence in the markets is falling.
Pushed to brink
The Independent says the world is praying for an economic miracle after a warning by the head of the IMF of a "looming collapse in global demand".
The Financial Times says the global economy has been "pushed to the brink".
The Guardian warns of a run on bank stocks as early as next week if a eurozone rescue package is not agreed.
The Mail bemoans an apparent lack of urgency by those in charge of global financial stability, asking: "Where are the leaders with the vision to act?"
Einstein's theory wrong?
There are attempts to try to explain why Einstein's special theory of relativity may be wrong.
An editorial in the Sun muses on news researchers have apparently succeeded in firing a beam of particles faster than the speed of light.
Imagine the consequences - it says: Wayne Rooney's shot might end up in the net before he'd kicked the ball.
But in the Times, physics professor Jim Al-Khalili vows to eat his boxer shorts if the experiment proves to be correct.
Miliband's 'last chance'
As Labour prepares for its annual conference, the papers reflect on Ed Miliband's first year as party leader.
A poll in the Sun suggests seven out of 10 people think Mr Miliband's Labour Party is not fit to govern.
Meanwhile, the Daily Express believes the conference is Mr Miliband's "last chance to connect" with voters.
The Guardian says the Labour leader will use his conference speech to turn his fire on privatised industries.