Captain Scott's Antarctic expedition drawings on show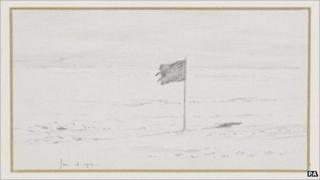 Drawings from Captain Scott's ill-fated expedition to the Antarctic in 1912 are to go on public display for the first time from next month.
Pencil sketches depict the moment the explorer and his team discovered Norwegian rival Roald Amundsen had beaten them to the South Pole.
Team member Edward Wilson drew Amundsen's flag which told them they were not first to reach the pole.
The exhibition will be held at the Queen's Gallery at Buckingham Palace.
Official photographs, artefacts and memorabilia from Captain Scott and Sir Ernest Shackleton's expeditions will feature in the expedition.
'The whole story'
Capt Scott's team included Wilson, Henry Bowers, Edgar Evans and Lawrence Oates.
The team came across the flag about 13 miles from the pole, in January 1912.
Scott wrote in his diary: "It was a black flag tied to a sledge bearer; near by the remains of a camp; sledge tracks and ski tracks going and coming and the clear trace of dogs' paws - many dogs.
"This told us the whole story. The Norwegians have forestalled us and are first at the pole."
The team continued and on 17 January discovered Amundsen's flag marking the South Pole.
Another drawing in the exhibition shows Wilson's depiction of a cairn built by their rivals a few miles from the pole, along with their flag.
Scott's party died as they tried to return to base, short of supplies and suffering from starvation and hypothermia.
The sketches were uncovered when the remains of Wilson, Scott and Bowers were discovered. Evans' body was never found.
The artwork was presented to King George V, following Wilson's wishes.
Shackleton attempted to cross Antarctica from 1914 to 1916. His adventure ended when the ship crushed in the ice and he had to sail 800 miles to South Georgia for a rescue party for his team left behind.
Photographs of his adventure are also included in the exhibition, entitled The Heart of the Great Alone: Scott, Shackleton and Antarctic Photography. It runs from 21 October to 15 April.