Newspaper review: Advice for Labour ahead of conference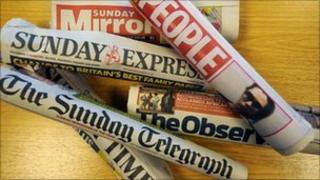 The papers have no shortage of advice for Ed Miliband as he contemplates his speech to the Labour Party conference.
In the Independent on Sunday, shadow Olympics minister Tessa Jowell, urges him to apologise for economic mistakes.
In , the Sunday Times shadow defence secretary Jim Murphy concedes that Labour conducted itself like a soap opera when it was in power.
New strategy
The Times talks of a "mea culpa" strategy, but the Independent says Labour should not focus on apologies.
Mr Miliband tells the Observer Labour has to show there is a different way of doing things.
In the Sunday Mirror he vows to focus on the "quiet crisis" facing families hit by high prices and pay freezes. The same phrase is in the People.
The Sunday Telegraph says Mr Miliband's challenge is to define an alternative vision which will attract voters.
In article for the paper, Mr Miliband pledges to regain the support of "middle Britain".
The Observer welcomes Labour's plans for a £6,000 cap on university tuition fees, as does The Mirror.
Greece 'may default'
Meanwhile the Independent says there are indications the world's economic powers will accept that Greece will default on up to half of 350-billion euro debt.
It says persistent unconfirmed reports point to G20 leaders believing Athens cannot cope with the scale of the debt.
The news will have a resounding effect on the markets on Monday, it says.
The Telegraph says a £1.7 trillion deal is being put together which would save the euro but allow Greece to default.
The Times's editorial welcomes a more "substantial" response but wonders if the eurozone leaders can convince the markets they will protect the euro.
Gaddafi dealings
The Telegraph says Tony Blair's close relationship with Colonel Gaddafi is under fresh scrutiny after more details of their private meetings emerged.
It says Mr Blair is coming under increasing pressure to make public all his dealings with the dictator.
The Mail on Sunday highlights a meeting Mr Blair and Prince Andrew had with one of Col Gaddafi's associates a month before the Lockerbie bomber's release.
A spokesman for Mr Blair says a request for the release was not discussed.