Newspaper review: NI and Republic of Ireland stories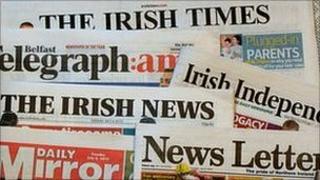 Journalist Keith Baker looks at what is making the headline in Monday's papers...
Big issues in the world of education. Peter Robinson features in the Belfast Telegraph main story. It says he's laid down a challenge to the Education Minister, John O'Dowd, to back his vision of a shared education system in our schools.
As the paper explains, Mr Robinson wants a single system to replace the present maintained, state, Irish medium and integrated sectors.
And he says that if the assembly doesn't back him, he'll consider setting up a commission to look at the issue.
Mr O'Dowd's due to make a speech at Stormont on Monday on the future of our schools, where there are 85,000 empty places.
The Irish News looks at what he's likely to say - in particular that schools which are providing poor quality education and are draining the public purse will be dealt with aggressively and shut down.
The Irish News also reports that more than four in 10 integrated schools here risk being stripped of their status because they have too many children belonging to one religion. It says that in some schools the proportion of Catholic children is under five per cent.
The News Letter reports the death of a Kilkeel teenager in a road accident on Sunday. It notes that Jordan Minnis started as a student at Queen's only last week. The paper has tributes to her. There are comments about how dreadful it is that a young life has been wiped out.
And the life and time of Gusty Spence are reflected in several papers.
In the Irish News his biographer and friend Roy Garland praises his role in securing peace. The paper says he never got over being exiled from the Shankill Road during a loyalist feud 11 years ago.
Brian Rowan in the Belfast Telegraph says he can be placed in a category with Martin McGuinness, Gerry Adams and David Ervine - men of our wars but also significant players in our peace.
The Irish Times says that while he led an organisation responsible for hundreds of deaths, he was also considered to be among the first on either side to recognise the need for peace between the communities.
The Mirror says whatever your view of him, he remains one of the most significant figures in Northern Ireland political history.
The Irish Independent says his apology for loyalist crimes deserves to last as his memorial.
Meanwhile, the Guardian recalls the death of the reporter Martin O'Hagan who was murdered by loyalists ten years ago.
It says his colleagues at the Sunday World are still receiving death threats. The latest came a few weeks ago when sources warned that the UVF planned to send a parcel bomb to the newsroom. In total, the Guardian says, 50 threats have been officially recorded.
Presidential race
In the Dublin papers, the debate about the presidential candidates is hotting up, much of it focusing on Senator David Norris and Martin McGuinness.
The main story in the Irish Independent says Senator Norris is coming under pressure to reveal the contents of letters he wrote asking for clemency for his former lover who was charged with statutory rape in Israel.
As for Mr McGuinness, a couple of comment pieces in the same paper. The headlines - 'We don't want a President with skeletons in the closet' ....'a McGuinness win would reignite the North struggle'.
Meanwhile, columnist Ann Marie Hourihane in the Irish Times comes up with another candidate, someone pleasant and modest, she says, who has little in common with the other contenders - namely Roger Moore.
She says the country needs a man who wears pink shiny ties and large tinted specs - not people who are competing about how little they'll get paid.
She does admit that the national thermostat would have to be turned up rather boldly in order to persuade him to run. But looking at the alternatives, she thinks it's worth a try.