Newspaper review: Press divided over Balls' performance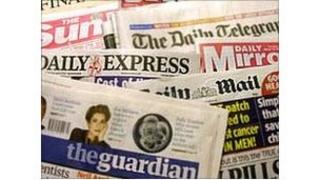 Tuesday's papers reflect on day two at the Labour Party conference and look ahead to leader Ed Miliband's important speech on day three.
The Daily Mail says Ed Balls' admission that the last Labour government did not get everything right deserves to be crowned "Understatement of the Decade".
The Daily Telegraph complains he failed to admit "the true scale of Labour's culpability for our economic plight".
But the shadow chancellor impressed the Daily Mirror and Financial Times.
No 10 contenders
The FT's Matthew Engel suggests Mr Balls' speech "felt like a genuine challenge to the government" - and possibly, longer-term, to Mr Miliband.
The Independent has unwelcome news for the Labour leader, with a poll in which his party has fallen behind the Tories for the first time since October.
Fewer than one in four of those questioned considered Mr Miliband a credible PM-in-waiting, it found.
Meanwhile, Rory Weal, the boy speaker at the conference, is 50-1 with bookies to be PM by 2040, reports the Guardian.
Healthcare crises
The Times reports on hospitals employing increasing numbers of healthcare assistants, who require no formal training and are unregulated.
It says the Nursing and Midwifery Council fears a "ghastly national disaster" unless ministers intervene.
Fears of a wider crisis in the NHS are reported in the Guardian.
The NHS Confederation believes the service will have to cut services to patients, or close casualty and maternity units, to avoid going bust.
'The play's the thing'
Several papers report how a prison van was sent 96 miles from Southampton to Banbury, Oxfordshire, just to drive a suspect 50 yards to magistrates' court.
"Criminal waste," is the Sun verdict on an operation reportedly costing £1,000.
The Times reports the Globe Theatre's plan to stage all 37 Shakespeare plays in 37 languages next spring.
"Shakespeare himself would have been delighted," suggests Ben Macintyre. "As the man said, the play's the thing, and all the world's a stage."