London 2012: Chance to see Olympic stars at test events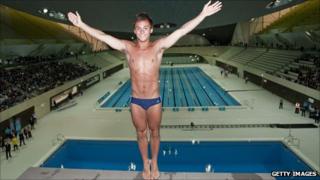 Sports fans who missed out on Olympic tickets will have a chance to see some big names in action at Games venues in the next series of test events.
The London 2012 organisers Locog have revealed a programme of top-class sport in venues being used for the Games.
And the likes of Tom Daley, Chris Hoy, Bradley Wiggins and Rebecca Adlington should all be in action.
Other Olympic and Paralympic events and venues will also be tested with tickets only on sale for certain events.
Tickets for the International Gymnastics Olympic qualifier, Track Cycling World Cup Classic and Diving World Cup test events will go on sale on 17 November while tickets for the British Swimming Championships and the Table Tennis Grand Finals are being sold through the national governing bodies.
Tickets for archery, handball and the Paralympic sport of goalball will be distributed to selected schools, colleges, local residents and national governing bodies.
Three Games venues in the Olympic Park will be used for the first time - the Velodrome, Aquatics Centre and Handball Arena.
ExCel, North Greenwich Arena and Lord's are the other homes of Games events being used in the programme.
Locog chief executive Paul Deighton said: "After completing 18 very successful Olympic test events this summer, it is with great anticipation we start the next round of test events in the London Prepares series."
UK Sport's head of major events Esther Nicholls said: "UK Sport is thrilled to be supporting the cycling and diving test events.
These events are set to give more of our athletes a taste of what is to come in less than 12 months time at the Olympics and Paralympics.
"Following the great success of the first test events, where we saw some incredible performances in iconic venues across London, we are looking forward to hosting more world-class events on home soil."
Test events have so far been held in a variety of Olympic sports, including beach volleyball, basketball, mountain biking and equestrianism.
Locog said the events are used to test the sporting field of play, results, timing and scoring systems, as well as how teams work together and how people move around venues.
Feedback is then taken into account when finalising plans for the 2012 Games.
At July's equestrian test event in Greenwich Park some riders criticised the arena surface.
And in August, BMX star Shanaze Reade also called for changes to the cycling course.
The Olympic Games begin on 27 July next year with the Paralympics starting on 29 August.