Max Mosley appeal rejected after privacy law defeat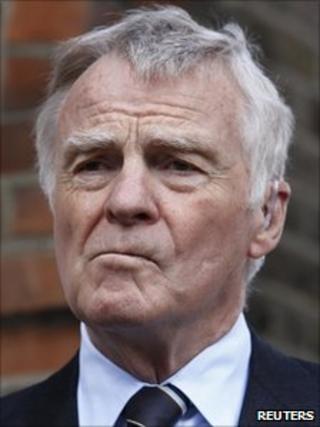 Max Mosley's appeal against a failed bid to force newspapers to warn people before exposing their private lives has been rejected by judges.
In May, the European Court of Human Rights refused his attempt to force a change in UK privacy laws.
A seven-judge panel ruled that would have a "chilling effect" on journalism.
Now, a five-judge panel of the court's Grand Chamber has turned down his application for an appeal, saying the May judgment was final.
But the ex-motorsports boss vowed that the latest decision "was certainly not the end of the road" in his fight.
He said: "My view remains that the requirement for prior notification is unanswerable.
"I am hopeful that the UK government, by way of the various committees and inquiries, can find a regime for effective safeguards for personal privacy."
In 2008, the UK High Court awarded the former Formula One boss £60,000 damages after ruling the News of the World newspaper invaded his right to privacy by reporting on his sex life.
A judge ruled there was no justification for the paper's front-page article about him paying five women to take part in a sado-masochistic orgy.
The tabloid said the orgy involving Mr Mosley, the son of fascist leader Oswald Mosley, had Nazi overtones, but this was rejected by the judge.
Freedom of expression
Despite being awarded damages, Mr Mosley argued money alone could not restore his reputation.
At the Strasbourg court he argued "prior notification" should be compulsory for newspapers, to give their targets time to seek an injunction preventing publication.
He said the media right to expose private behaviour without telling the "victim" under UK law breached his right to a private life, guaranteed by the Human Rights Convention.
But the Human Rights judges ruled that the right to freedom of expression, also guaranteed in the Convention, would be at risk if "pre-notification" was compulsory.
Their verdict stated: "The European Convention on Human Rights does not require media to give prior notice of intended publications to those who feature in them."