Phone hacking: NoW journalists in tribunal claim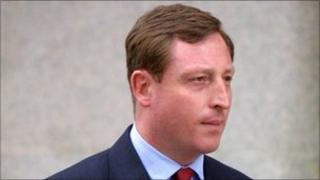 Two former senior journalists at the News of the World are taking publisher News International to an employment tribunal, alleging unfair dismissal.
Ex-assistant editor Ian Edmondson and ex-chief reporter Neville Thurlbeck have both lodged tribunal papers.
At a preliminary hearing at the East London Tribunal Service on Friday, Mr Thurlbeck is expected to claim he was unfairly dismissed for whistleblowing.
"News International will vigorously contest the case," said a spokeswoman.
Mr Thurlbeck is among three journalists arrested on suspicion of phone hacking whose bail has been extended to March.
Mr Thurlbeck, Ian Edmondson and James Weatherup - all former News of the World journalists - were among the first of 16 arrests so far in the Metropolitan Police investigation into allegations of phone hacking.
They are understood to have visited police stations separately on Tuesday and been bailed until March 2012.
An email apparently intended for Mr Thurlbeck - known as the "for Neville" message - that is said to have indicated News of the World phone hacking went beyond a single rogue reporter, has had a prominent role in the scandal.
The tabloid closed in July after 168 years in print.
The scandal also resulted in the resignations of Metropolitan Police Commissioner Sir Paul Stephenson and Assistant Commissioner John Yates.
High-profile figures arrested as part of Scotland Yard's Operation Weeting probe include former News International chief executive Rebekah Brooks and ex-Downing Street communications chief Andy Coulson.