Brave Afghanistan army dog handler becomes an MBE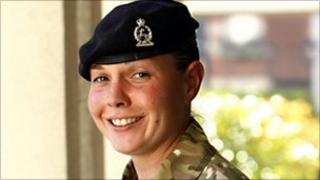 An army sergeant who saved "countless" lives by uncovering bombs in Afghanistan with her explosives sniffer dog has been appointed an MBE.
Kaye Wilson, of Shrewsbury, Shropshire, was honoured for her "unwavering bravery" in searching for improvised explosive devices in Helmand.
The 35-year-old worked with a Belgian Shepherd Malinois dog, called Obama.
The Royal Army Veterinary Corps soldier said it was "amazing" to become an MBE.
She joked that she would share it with two-and-a-half-year-old Obama, who remains in Afghanistan, adding: "It's a team effort. I feel very humbled."
Sgt Wilson also paid tribute to her comrade L/Cpl Liam Tasker, 26, from Tayport in Fife, who has been awarded a posthumous Mention in Despatches after being shot in Helmand in March.
L/Cpl Tasker and his sniffer dog Theo, who died from a seizure hours after his master was killed, found a record 14 bombs and weapons caches in five months.
Sgt Wilson said: "We are all very close, so what happened affected everyone. Unfortunately jobs have to be done and we all had to carry on."
'Selfless dedication'
The dog handler is originally from Shropshire but lives in Grantham, Lincolnshire and works in Melton Mowbray, Leicestershire.
The MBE citation said Sgt Wilson "pushed herself and her dog to the limits of endurance".
"Always keeping a cool head and demonstrating unwavering bravery, Wilson operated at the very top of her game and maintained this unparalleled performance throughout the tour," it read.
"Courageous but understated, she led from the front with a technical proficiency and selfless dedication."
Sgt Wilson, who was based in Nad-e-Ali and Gereskh in Helmand during her third tour of Afghanistan from September 2010 until March 2011, said it was probably the "most intense" time she had experienced, because she had been working with high-threat teams.
"At first it's a scary process, but you do relax into it. You trust your team around you," she said.
Her honour comes on the day that a total of 140 servicemen and women, most of whom served with 16 Air Assault Brigade in Afghanistan between October 2010 and April 2011, are awarded honours.
Two other soldiers were recognised posthumously, with a George Medal being awarded to Private Martin Bell, 24, from Bradford, West Yorkshire, of 2nd Battalion The Parachute Regiment.
He died in Helmand in January after disobeying a direct order and going to provide urgent first aid to a wounded friend.
There was also a Mention in Despatches for Territorial Army Private Conrad Lewis, 22, from Claverdon, Warwickshire, of 4th Battalion The Parachute Regiment, who was killed along with a comrade by a single shot from a Taliban sniper in February.