Newspaper review: Rubbish collections fund welcomed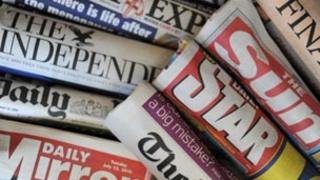 The papers, many bound for the bin or recycling themselves within hours, welcome the launch of a £250m fund to pay English councils for weekly collections.
"Sanity at last," is the Daily Express reaction, while the Daily Mail welcomes the government's "U-turn on a U-turn".
The Daily Telegraph suggests that for many people "it is the only service they receive from local government - and at a significant cost".
Councils "should have looked elsewhere for efficiencies", the paper argues.
Rapid response
Debate over proposals to raise the motorway speed limit to 80mph is revved up in most of the papers.
"Full speed ahead," is the Times' front page headline.
The Guardian urges ministers to "slow down and reconsider". "What a way to boost the economy," it says, "more fuel, fumes and funerals."
A woman whose daughter was killed by a driver travelling at 80mph tells the Sun: "It's as if the government is saying it was OK to kill her."
Eurozone 'shadow'
After Germany voted to boost the eurozone rescue fund, the Independent calls it a "a single, small victory in a long and difficult campaign".
Similarly, the Guardian asks: "Merkel enjoys triumph in bailout, but how long will it last?"
The crisis "threatens to cast a shadow" over next week's Conservative Party conference, says the Financial Times.
Chancellor George Osborne will miss some of the conference "to press his European colleagues for action".
Sleepless in Surrey
The Duke and Duchess of Cambridge are widely pictured visiting the Royal Marsden hospital in Surrey. The Sun points out that it is a hospital Prince William's mother, Princess Diana, supported.
"The Duke laughed off tiredness as he finished a sleepless 24-hour RAF shift and went straight to open a children's cancer unit," reports the Telegraph.
Sun royal photographer Arthur Edwards remarks on a "lovely" shot of William "with his shirt sleeves rolled up".
"Something I've never seen a royal do before," he says.