Howard League says jailing mothers damages children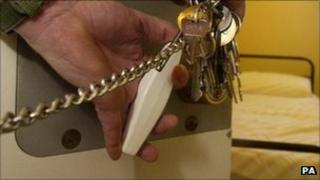 More than 17,000 children lost their mothers to prison last year, according to the Howard League for Penal Reform.
The charity estimated 17,240 children aged under 18 were separated from their mothers in England and Wales in 2010.
It said such separations caused children "emotional, social, material and psychological damage" and that non-violent women should not be jailed.
The Ministry of Justice said it was trying to build confidence in community sentences for non-violent offenders.
The Howard League's Voice Of A Child report found that 11,000 children were last year separated from mothers jailed for non-violent offences.
More than half the women entering prison did so on remand and of those, 60% did not receive a custodial sentence or were found not guilty, it said.
Chief executive Frances Crook said many initiatives had been launched to try to limit the damage to children of those in jail but that they did not work.
Prison visiting hours mainly fell during school time, with weekend visits rare and family days in prison likely to be scrapped due to budget cuts.
"Visiting mum in prison is one of the most distressing things a child can experience," Ms Crook said.
"The best way to reduce women's offending is in the community, by improving mental health services and tackling drug abuse."
Baby units
The Ministry of Justice said the government remained committed to tackling female offending and that prisons promoted family contact, including leave for eligible inmates to develop and maintain relationships with their children.
But a spokeswoman agreed prison sentences could be distressing for the children of female offenders.
"That is why we want to increase confidence in community sentences - to demonstrate they are a viable option for non-violent offenders with caring responsibilities," she said.
In July 2011, a taskforce set up by the Prison Reform Trust also recommended that women should serve community sentences rather than jail terms.
Women with newborn children can apply to be placed in a mother and baby unit - there are seven of these in the 12 women's prisons in England and Wales.
These contain a total of 69 places, and the infant can remain with its mother for the first 18 months.