Neville Thurlbeck denies hacking phones while at NoW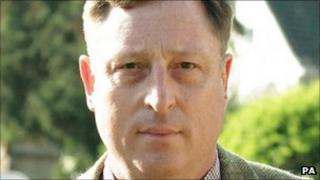 Former News of the World chief reporter Neville Thurlbeck has issued a statement insisting that he took "no part" in phone hacking.
Mr Thurlbeck, arrested in April by detectives investigating phone hacking at the now-closed newspaper, was sacked earlier this month.
He has lodged employment tribunal papers against his former employers.
And he said he would fight his unfair dismissal claim against publisher News International "to the end".
He has recently abandoned an attempt to make his former employer continue to pay his salary while he sues the newspaper.
The former journalist alleges he was unfairly dismissed for whistleblowing.
In a statement issued by his law firm, DWF, he says: "I took no part in the matter which has led to my dismissal after 21 years of service.
"I say this most emphatically and with certainty and confidence that the allegation which led to my dismissal will eventually be shown to be false.
"And those responsible for the action, for which I have been unfairly dismissed, will eventually be revealed."
Mr Thurlbeck, 49, said News International accepted he was not responsible for the matter that led to his dismissal.
And he claimed there was "no valid or reliable evidence" to support its "sudden volte face".
He added: "At the length, truth will out. I await that time with patience, but with a determination to fight my case to the end."
'Dignified silence'
Mr Thurlbeck's alleged role in the phone-hacking scandal came to light after details emerged of an email sent in June 2005 which was headed "for Neville" and contained transcripts of illegally intercepted voicemail messages.
The email, which surfaced in April 2008, seemed to contradict News International's previous claim that phone hacking at the News of the World was only carried out by a single "rogue reporter".
Mr Thurlbeck also alleges that his former employers withheld the reason for his dismissal from him for nearly a month. He said he eventually found out why he was sacked from Scotland Yard - but did not reveal any details for legal reasons.
Mr Thurlbeck also criticised News International for briefing the press about him.
He called for the publisher to "abandon the unseemly practice of whispering behind the back of a loyal and long-serving former employee".
"There is much I could have said publicly to the detriment of News International but, so far, have chosen not to do so," he said.
"Therefore, let us all retain a dignified silence until we meet face to face in a public tribunal where the issues can be rigorously examined and fairness can eventually prevail."
Mr Thurlbeck has had his police bail extended until March next year.