Great-grandfather, 82, in world's oldest wrestler claim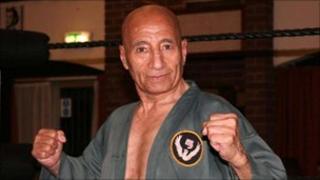 An 82-year-old great-grandfather from West Bromwich is claiming the record for being the world's oldest professional wrestler.
Saleh Ghaleb, who originally comes from Yemen, fought and beat 46-year-old Paul Sinclair at a bout on Friday night.
Mr Ghaleb came out of a 15-year retirement to attempt the record, which was previously held by a 75-year-old.
The pair fought in front of several hundred noisy fans at the Darlaston All Active Club in Darlaston.
After the fight, the shaven-headed Mr Ghaleb was carried round the ring on the shoulders of two other wrestlers who also appeared on the bill.
He said: "I feel fantastic. I feel like picking the world up, believe me or not. I'm as fit as ever."
'Still fantastic'
But he admitted to not being as quick and agile as he once was when facing opponents.
"I used to fly over their heads, but not now, I'm slowing down a little bit, but I'm still fantastic."
Asked why he had done it, he said: "This is my life. I always want to do something to keep me fit, whatever it is."
Would he fight again? "I don't know. We'll see. I feel as fit as ever."
His opponent had simply been billed as a "mystery" man, but Mr Ghaleb, who measures 5ft 2ins and weighs seven-and-a-half stone, said he was not fazed when faced by the much younger and taller Mr Sinclair.
"I didn't look at his face. He was just dancing. I never dance. I just go for it. Just wrestle," Mr Ghaleb said.
Mr Ghaleb went ahead by winning the first fall when he held his opponent's shoulders on the ground for a count of three in the fourth round.
The fight was extended to a seventh round when Mr Sinclair tied level in the sixth, but Mr Ghaleb got the winning fall with a double arm lock.
Black belt
At one point Paul Sinclair spat water in his opponent's face, apparently temporarily blinding Mr Ghaleb, who proceeded to pick up the referee and throw him to the ground. Both fighters received public warnings for their behaviour.
Mr Ghaleb has four surviving children, 10 grandchildren and three great-grandchildren. His daughter Amina said: "It's absolutely unreal. He's amazing. It made me cry. He fights like he's always fought. It's no different to 15 years ago."
Mr Ghaleb used to fight under the name the Bengal Tiger, because when he started wrestling he would pick up people with his teeth, but he used the name Kung Fu on Friday. He has a black belt in the martial art.
He was wearing a Kung Fu outfit, and clearly had the crowd on his side. They chanted, "let's go Kung Fu, let's go" and "break his legs".
Matt "Mad Dog Max" Powell, a student of Mr Ghaleb, helped organise the fight.
He said: "He teaches us all to wrestle. We all look up to him. He's a role model for us all and now he's set the world record we're just so proud of him."
Mr Powell added: "He came to us in training - he trains us a couple of times a week - and said, 'I think I've got one more match in me'.
"We said, 'No, you're 82. Let's not do that, but he kept insisting'. We looked at his fitness level and he was more than fit enough to do it."
Mr Ghaleb moved to Britain more than 50 years ago to work in foundries in the West Midlands and married a British woman. He returned to Yemen after retirement to work with the country's national Judo team.
A spokesman for Guinness World Records said: "We monitor a record category for the oldest professional wrestler and are interested to hear from any professional wrestlers over the age of 75 years.
"I can confirm that a record claim has been made on behalf of Saleh Ghaleb and we are currently waiting for the required evidence to be sent to us so that we can verify the claim."