Duchess of Cornwall attends DecAid Afghanistan service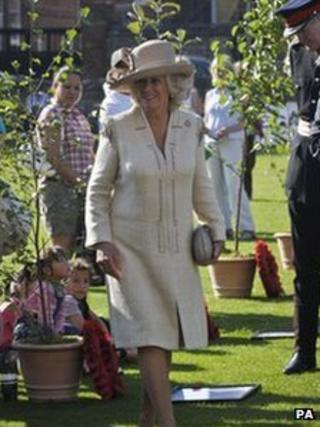 The Duchess of Cornwall has helped mark the 10th anniversary of the Afghanistan conflict at a service to raise money for UK forces charities.
Camilla was among those at the Salisbury Cathedral event commemorating the end of DecAid's charity campaign.
A candle was lit for each of the 382 British service personnel who lost their life in Afghanistan.
Set up by students, DecAid has held five other events this year with the aim of raising at least £350,000.
The money will be divided between two charities, the Soldiers, Sailors, Airmen and Families Association Forces Help and the British Limbless Ex Service Men's Association.
'Right direction'
More than 400 friends and relatives of those that lost their lives in Afghanistan were invited to DecAid's Light for Life Ceremony.
It was presided over by the Dean of Salisbury Cathedral, the Very Reverend June Osborne.
Canon Thomas Woodhouse, the vicar of Wootton Bassett, the Wiltshire town which became famous for honouring soldiers with its repatriation ceremonies, was also in attendance.
Camilla, a DecAid patron, read a passage from the New Testament.
An avenue of young trees, with poppy wreaths at their base to represent regiments which have lost someone since 2001, lined the path to the cathedral.
The candles were lit by members from DecAid, which is made up mainly of current or former students from Exeter University Officer Training Corps.
Another patron, General Sir Nick Parker, Commander-in-Chief, Land Forces gave an address.
"We are now coming to a defining moment in the Afghan campaign," he said.
"The sweat and blood of our troops over the past 10 years have created a security foundation on which we now have to rely on others to build, the Afghans must take over from us, they must be prepared to fill the economic and political vacuum so that the efforts that have been made so far are exploited and sustained."
He added: "Be in no doubt that we are moving in the right direction, but the job is by no means done."
It is 10 years this week since the US and UK launched the campaign known as Operation Enduring Freedom in the wake of the 9/11 terror attacks.
Most British military casualties in the Nato-led mission took place after 2006, when UK forces were deployed to Helmand province.