Afghanistan 10 years on: UK troops recall 'naivety' of war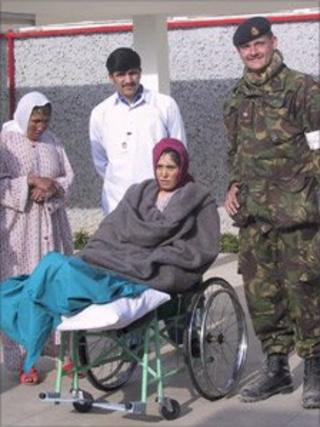 As Friday marks the 10th anniversary of UK forces joining US-led military action against the Taliban in Afghanistan, some of the first British troops in the country recall what the conflict was like at the beginning - and reflect on how things have changed.
"Whilst I was in Bagram in 2001 I had a bet with our quartermaster that in 10 years' time Afghanistan would have a flourishing tourist industry with ski resorts in the Hindu Kush mountains, but I think I'm about to lose that one," says Lt Col Mark Bailey.
In December 2001, the 32-year-old Army doctor, who had just been deployed to Bagram Airbase, was full of optimism that the war in Afghanistan would be over in no time.
The Afghans had greeted them with smiles, the security situation was good, and the Taliban were retreating.
Little did he know that in 10 years' time, he would be back, largely confined to his base and facing a significantly higher number of casualties among his troops.
Looking back on it now, Lt Col Bailey, who was deployed with 34 Field Hospital RAMC, recognises he was rather naive.
But he says at the time the mood among UK troops shortly after 9/11 was one of optimism.
"Although most of us were aware of the history and complexities involved in a place like Afghanistan, I think we were mostly very positive because of our recent successes in the Balkans and Sierra Leone.
"I think most troops felt this was an important job that needed to be done... and were just very professional and pleased to be doing a job they had trained for."
Lt Col Bailey, whose job was to provide medical support for British and American troops in Bagram - but also involved him joining a group of Royal Marines who were providing security and establishing the ISAF headquarters in Kabul - says he was able to travel around freely without feeling in danger.
"I think Afghans are a reserved and dignified people and so you're never going to get a 'carnival atmosphere', but we were greeted by warm smiles and handshakes everywhere we went.
"I was amazed at the ethnic diversity of the people and their obvious stoicism and good humour at that time."
Living and working conditions were "very basic compared to what you see at the field hospital in Camp Bastion today", and consisted of the remains of Afghan army barracks "with no doors, windows, electricity or running water" in Kabul, or tented accommodation "surrounded by minefields, wrecked aircraft and the magnificent Hindu Kush mountains" in Bagram.
'Humbling'
But there were very few injuries or illnesses as there was no local fighting in Kabul, and few infectious diseases in the winter.
In Bagram, the injuries were mostly from mine strikes, helicopter crashes and combat operations.
Lt Col Bailey says that meant there was more time to do helicopter evacuations of local Afghans with severe medical problems in remote areas, which was "very satisfying".
"I remember picking up a young woman with severe burns and a woman in obstructed labour (due to twins) who all made good recoveries.
"At the time I think they would have been way down in the social pecking order of the country and yet here we were sending helicopters in the middle of the night to bring them to hospitals in Kabul."
But when the Army doctor returned to Afghanistan in 2010 to work as a general physician and specialist in infectious diseases at the military field hospital in Helmand Province, his experience was "completely different".
He found the facilities and the trauma work at the field hospital were sophisticated and had evolved to a high level, resulting in an increasing number of unexpected survivors.
During seven weeks, he admitted 221 cases, of whom 71% had infectious diseases.
And largely confined to the hospital and Camp Bastion, the few civilians he met seemed "understandably war-weary and less trusting than before".
From an Army doctor's perspective, Lt Col Bailey - who joined the Army in 2000 due to a shortage of infectious disease physicians - says on both occasions, it was the moments he was not prepared for that were the most touching.
"For example, when you're visiting ITU (Intensive Therapy Unit) and you hear a young soldier apologising profusely to his visiting commanding officer for having stood on an IED and the officer is telling him not to worry about it and they both have tears in their eyes.
"Or when you come across a colleague sat crying in a quiet corner because he's just given sedation to three recent amputees ready for them to fly back to the UK."
The 42-year-old, who has also served in Nepal, Sierra Leone, Iraq and Cyprus, says his tours of duty in Afghanistan have been "very humbling".
"These deployments really are the best and worst of times - you see the very best of human nature and also some really tragic things.
"I guess it can be hard to know how to deal with the emotions that come from this, but it makes me remember every day that I am truly blessed and that I work with real heroes."
But he says he never expected the conflict to last this long.
"If I'd first gone to Afghanistan in 2006, I'd have expected to be there in five years, for it to be a long slog.
"But 2001, the enemy was going backwards, the Afghans were welcoming, things looked good.
"Maybe if we'd stayed in greater numbers and capitalised on the situation earlier - rather than virtually pulling out of Afghanistan and then going back in again, it would have turned out differently."