TV football ruling is 'a victory for the working man'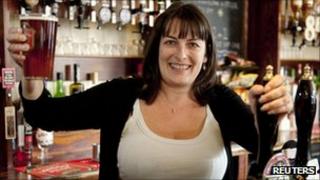 A pub landlady has won the latest round of her fight to air Premier League games using a foreign TV decoder - a move that could have a major effect on the way fans watch football in England. What do football fans and publicans make of the decision?
Following Tuesday's European Court of Justice (ECJ) ruling, a relieved Karen Murphy said she felt she had taken on the might of both the Premier League and Sky.
And at the Gunners pub, close to Arsenal FC's ground in north London, they are impressed.
"I thought she was wonderful, absolutely brilliant. I'm very proud of her," says head barman Liam Mac Cana, 69.
In fact, the retired lawyer thinks that, should the next and final round of her fight at London's High Court go the Portsmouth landlady's way, the moment should be dubbed "Murphy's Law".
He explains how fans are often left frustrated when the pub is not showing some of the big matches - and many fans simply take their business elsewhere.
"It's simple, I want to be able to show every game here - we don't want the Premier League or anybody else telling us what the deal is," he adds.
"It [this change] would be great for business.
"If you're not showing the match then hundreds of fans come in and say 'Why not?' We just have to say 'Because it's not on Sky'."
The barman is happy to accept victory for now, but adds: "It [the case] is going to be watched by every publican involved in sport.
"We will certainly want to see the outcome."
Though packed on match days, the Highbury pub is fairly empty on a rainy Tuesday afternoon, but for two football fans having a game of pool.
Back-to-back football
Manchester United fan Aakeid Elhamri, 30, and Chelsea fan Daniel Jones, 30, both air conditioning engineers, have been mullling the consequences of Tuesday's ruling.
They are quick to point out the frustration that Brits abroad can watch almost any football match they want.
Here, the Premier League dictates that UK citizens should only be able to watch live matches through Sky or ESPN.
Mrs Murphy has argued the single EU market should mean she is entitled to buy her live football from any European country she chooses.
"[Last weekend's] Man United game wasn't being shown on Sky but it was on Italian Sky Sports," says Mr Elhamri.
"Over there you can watch football back to back which is definitely a good thing."
Mr Jones adds: "It's so frustrating when you know a match is being shown on a channel other than Sky and you can't watch it.
"Sometimes I go on holiday with my family and there's a game on that isn't even on back home - it's odd."
But, Mr Jones says, match days at a British pub would not be the same without Sky's build-up, which starts early.
"You just don't get that from foreign channels," he explains.
"You just get the game and that's it ... I actually think that if you were to ask people whether they would prefer to watch football on Sky over foreign channels the majority would say Sky."
Currently no UK-based broadcaster can show premiership football at the traditional time of 15:00 BST in order to boost match attendances.
But Mr Elhamri is confident that even if games were broadcast at this time seeing live football would be popular.
"Fans will still want to see football on the terraces," he says. "You can't beat the atmosphere on the terraces."
Costly business
At the nearby King's Head pub, the landlord, who has been in charge for 26 years, says a decision in Mrs Murphy's favour at the High Court could save publicans thousands of pounds.
Sky costs up to £12,000 a year, he says, while a foreign decoder would be a fraction of the price - about £2,000 per year.
"Football should be good for business - [but it only can be] if every public house is allowed to show it for a reasonable price," says Patrick Donohue.
One punter, a 54-year-old Arsenal fan, who asked not to be named, vents: "We're supposed to be in Europe but if you're in Spain or Italy you can watch any Premier League games you want - so why is it different here?
"At the moment it's one rule for one and one for another."
Further down the road at the Black Stock pub, close to Finsbury Park tube station, a group of railway workers are delighted at the latest decision.
Aston Villa fan Howard Gleave, 45, from Litchfield, Staffordshire, says: "It would be more of a level playing field.
"If you go abroad you can watch any live Premier League games you want. The only country you can't watch the games in is England - where the games are played.
"It's not fair to people in the UK."
And Liam Hullah, 24, a Newcastle fan, pours scorn on any suggestion clubs could go under if they lose out on money from broadcasters - cash often spent on players' wages and salaries.
"If they can afford to pay £200k a week to a player then I'm sure that £300 in telly money won't make a difference to them," he says.
The group is unanimous in saying that the Premier League's TV rights model works needs to change.
Mr Gleave says "It's a joke" while Mr Hullah says "Sky try and play God."
"Fair play to her [Karen Murphy] because it was a gamble against the big boys," adds Mr Gleave.
"This is a victory for the working man."
'Double-egded sword'
In Portsmouth, home to Mrs Murphy's Red, White and Blue pub, the reaction from football fans echoes that in English capital.
Kevin Ryan, secretary of Portsmouth FC Supporters' Club, said: "The price pubs have to pay is ridiculous and I'm sure other pubs will follow suit now and try to get the games for cheaper.
"But the game needs Sky, football will fold without it, so it is a double-edged sword."
University of Portsmouth law student Craig Purvis, 20, said: "The fact that this has been achieved by a little pub in Southsea is brilliant.
"The whole idea of the EU is to create a single market and if we can't trade freely what's the point of having it and being in it?"
Brian Richardson, 57, security officer from Portsmouth, said: "It is good news that a landlady can stand up to the might of these big organisations.
"I think it is right to have competition and not let Sky have it all their own way."