Sunburn contest branded 'irresponsible' by ASA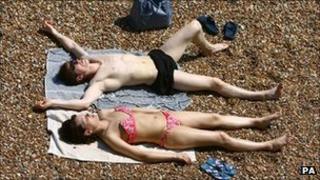 A competition encouraging people to submit images of their sunburned bodies has been branded "irresponsible" by the Advertising Standards Authority (ASA).
Travel comparison website dealchecker.co.uk sent an "earn with your burn" promotional email in July.
Their advert included pictures of sunburned or sunbathing people and offered a prize of a free holiday for two for sunburn pictures.
The ASA said the competition "could be seen to trivialise sunburn".
The website had asked for photographs to be sent to the email address "likealobster@dealchecker.co.uk".
The site's parent company, DMC Digital, claimed it intended to promote sun safety with the competition, which also had prizes of suncream for the winner and runners-up.
It told the ASA it "did not want people to risk their skin for the purpose of entering the competition, and [was] therefore careful throughout the competition to make it clear that [it ]wanted old photos of sunburn".
Motivation 'misunderstood'
DMC Digital also said that throughout the six-week competition period it featured numerous blog posts on sun safety, regularly tweeted sun care tips and engaged in discussion with their users on the necessity of wearing suncream and taking proper precautions against sunburn whilst on holiday.
It said the response to the competition through social media channels had been positive, with members of the public submitting their photos with their experience and warnings to others.
Mark Attwell, managing director of dealckecker.co.uk said: "The competition was a light-hearted attempt to make people think about a serious issue by highlighting their past experiences with sun burn. Our intention was to raise awareness of the dangers of sunburn, promote responsible behaviour and the use of sunscreen.
"It was never our intention to encourage holidaymakers to harm their skin. We appreciate some people may have misunderstood the motivation for the competition and for this we apologise."
However, the ASA upheld the complaint made to them and added: "We... considered that the promotion could encourage recipients to get sunburnt in order to be able to enter the competition, and concluded that the competition was irresponsible."
The competition is not allowed to appear again in its current form, and the website has removed all the relevant content.