New York helicopter crash victim named as Sonia Marra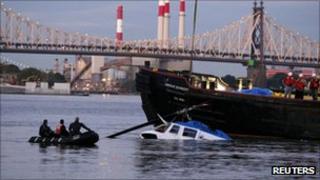 A British woman who was killed when a helicopter she was travelling in plunged into a New York river has been named by the Foreign Office.
Sonia Marra, a UK expatriate who was living in Australia, was celebrating her 40th birthday when the crash happened on Tuesday.
Her partner, Helen Tamaki, 43, and mother Harriet Nicholson, 60, are in a critical condition.
Her stepfather Paul Nicholson and the pilot have been released from hospital.
According to reports, Ms Marra was trapped inside the helicopter as it sank about 50 feet (15 metres) below the surface of the swift-moving water.
The helicopter was on a private tour when it crashed into New York's East River at 15:22 (19:22 GMT) shortly after lifting off from the busy 34th Street Heliport.
It is believed Ms Marra, who lived in Sydney, was visiting New York with her family to celebrate her 40th birthday.
Mr and Mrs Nicholson live in Portugal and the group, who had met in New York, were also reportedly celebrating Mr Nicholson's 71st birthday.
The family were friends of the American pilot Paul Dudley, who is the director of Linden Airport in New Jersey.
A Foreign Office spokeswoman said Ms Marra's next of kin had been informed.
The New York City Fire Department confirmed that the two injured female passengers were in a critical condition in New York's Bellevue Hospital.
An NYPD spokesman said one of the injured women had suffered a cardiac arrest and the other a respiratory arrest.
Mr Dudley and Mr Nicholson were discharged from hospital after being examined by doctors, police said.
'Tragic accident'
The Sydney Morning Herald reported that Ms Marra had worked at Galluzzo's fruit market in Glebe, Sydney, for the last three months.
Owner Joe Galluzzo told the newspaper Ms Marra was a "bubbly" woman who was full of life.
Ms Tamaki had surprised Ms Marra with plans to go to New York for her 40th birthday and the pair were looking forward to their holiday, he said.
"That was her 40th birthday present from Helen. How sad that is," he said.
"She will be so missed. She had a personality and a half."
Giving a press conference at the scene of the crash, New York Mayor Michael Bloomberg said: "We pride ourselves on being the most welcoming city in the world and to have a family come here to see the best of our city and end up in a tragic accident like this just breaks your heart."
He added: "All New Yorkers feel for this family, and we wish it had not happened and our prayers are with the deceased."
Mr Bloomberg said the privately owned Bell helicopter, which was based in Linden, New Jersey, crashed "just after taking off" from the heliport on the east side of Manhattan.
Describing the events that led to the crash, Mr Bloomberg said: "From what we know so far the pilot reported having trouble keeping aloft, tried to turn back, but crashed in the water just north of the landing pad."
He said emergency services arrived on the scene to see the helicopter upside-down "with only the skids showing on the surface".
A dozen boats and divers took part in a rescue effort before the passengers were pulled from the water.