Sara Payne and Shaun Russell sue News International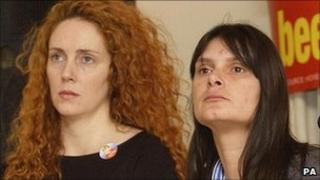 The mother of murder victim Sarah Payne and murdered schoolgirl Megan Russell's father are taking legal action over alleged phone hacking.
Sara Payne and Shaun Russell, whose wife Lin was also killed after a frenzied knife attack by Michael Stone, are suing News International.
Media lawyer Mark Stephens said proceedings had been issued.
News International said it was "committed" to reaching fair settlements to victims of hacking.
Sara Payne campaigned successfully alongside the newspaper for Sarah's Law, which allows parents to ask police if someone with access to their son or daughter has been convicted or suspected of child abuse.
Ms Payne and Mr Russell are just two of a number of possible victims who are taking action against the owner of the former tabloid.
Earlier this year at the High Court, Mr Justice Vos heard that around 30 high-profile people suspected their phone messages were intercepted by reporters at the now defunct News of the World.
That number is said to have increased to more than 60 in recent weeks. The Guardian reported the sharp increase is due to a judicial cut-off point for initial claims.
'Swift settlements'
The judge is due to hear evidence from a group of "lead claimants" at a hearing in January - and any rulings he makes are expected to provide a blueprint for the way other claims are dealt with.
A spokesman for News International said: "News International is committed to reaching fair and where possible swift settlements with victims of illegal voicemail interception and has unreservedly apologised to those affected."
Media lawyer Mark Stephens said: "Proceedings have been issued by me against News International and Glenn Mulcaire, but they have not yet served."
The News of the World phone-hacking scandal led to the closure of the UK tabloid in July after 168 years in print.
A number of people have been arrested as part of Scotland Yard's investigation - Operation Weeting - into phone-hacking allegations.
Settlements already agreed by News International include: a reported £700,000 to Gordon Taylor of the Football Association; £100,000 in damages plus costs to actress Sienna Miller; £20,000 in damages to football pundit Andy Gray.
Correction 6 October 2011: This report has been amended to clarify the provisions of Sarah's Law.