Ballylumford power station makes £45m profits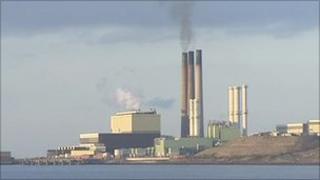 The company which owns Ballylumford power station in County Antrim has announced pre-tax profits of £45m for 2010.
The details are contained in the 2010 accounts of AES Ballylumford.
The power station was bought by US-based AES Corporation last year, having previously been owned by Premier Power.
In September, its sister company AES (NI), which owns Kilroot power station, announced annual profits of £50m.
AES is the largest energy producer in Northern Ireland, with around 15% of the market.
The Ballylumford business turned over £183m in 2010 up from £166m in 2009. Profits in 2009 were £43m.
The company employs 171 people and pays total salaries of more than £10m.