Funeral for L/Cpl Jonathan McKinlay from 1 Rifles held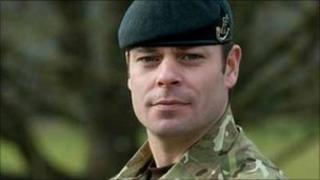 Friends and family of a soldier killed in Afghanistan have paid their last respects to him at his funeral.
Lance Corporal Jonathan McKinlay, 33, of Gloucestershire-based 1st Battalion The Rifles, was killed while on patrol with his team on 14 September.
The service was held at Bulford Camp, Wiltshire, followed by a private cremation in Salisbury.
The father-of-three from Darlington, County Durham, had also served in Northern Ireland and Iraq.
'Impressive qualifications'
He leaves behind his wife Lisa, mother Valerie, sister Becca, daughter Megan and stepchildren Ollie and Piper.
After the military service at St George's Church, a guard of honour fired volleys in the church grounds before the cortege set off.
L/Cpl McKinlay was deployed to Afghanistan in June 2011.
He was based in Checkpoint Chaabak in the Nahr-e Saraj [South] district of Helmand.
The soldier was with members of the Afghan Uniform Police in a village near his checkpoint when they came under attack.
L/Cpl McKinlay joined the Army in 1996 and racked up "a great degree of experience" throughout his career, with deployments to Northern Ireland, Iraq and Afghanistan, the Ministry of Defence (MoD) said.
'Job he loved'
Speaking to more than 200 mourners packed into the church, Padre Grant Ashton told them L/Cpl McKinlay had "died trying to make the world a better place".
He read out a few words from L/Cpl McKinlay's mother, Valerie, who said:
"Jonathan always lived life by the skin of his teeth. He sky-dived, loved it; he rode a motorbike, loved it; and he was an infantry soldier, loved it.
"Not a safe trio, I'm sure you'll agree. He died doing the job he loved with his kind of people around him.
"As his mum, I will miss him dearly until the end of my days. Life is going to be a lot duller without him."