Dangerous driving: 'Too late for us'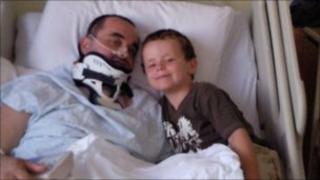 Dangerous drivers could face longer jail terms under a proposal to go before Parliament.
A new crime of causing serious injury by dangerous driving will carry a maximum sentence of five years.
Darren Braund, from Barry, Vale of Glamorgan, was left with life-threatening injuries after being knocked off his motorbike. His wife Jane tells their story.
"This is fantastic news, but it's just a bit too late for us. My husband got knocked off his motorbike when a woman who wasn't looking crossed his path. He was doing under the speed limit, and was not at fault at all.
"His helmet was ripped off by the windscreen wiper of her car and he landed on his head, resulting in severe damage to the brain and face which required hours and hours of surgery.
"They said he was not going to make it at all due to the severity of the injuries. He was in a coma for two and a half weeks.
"He had to go to a rehabilitation hospital as his left side was paralyzed and with intense work he managed to get his leg working but not his arm.
"There are three muscles in his leg that are not working but with help of a shock stimulator in his shoe he can walk.
"Two years on from the accident he is still having rehabilitation for the damage to the brain and he will never get the use of his arm back, which is hard as it was his dominant arm.
"We have two little boys and it's very hard for them, mainly our eight-year-old as he saw a lot. We've kept him up to date and we don't hide anything from them, but the changes are hard as he says my daddy isn't the same!
"We all accept the changes. No matter what. If anything it has made us stronger.
"The woman who did this got just over £700 fine, five points and one endorsement. Yet my husband lost his licence and everything else as a result of brain damage, and he also suffers with epilepsy, left side paralysis and many other disabilities.
"I'm glad something is finally being done, but it is just a little too late for us."