Kelly Hoppen accepts £60,000 damages in hacking case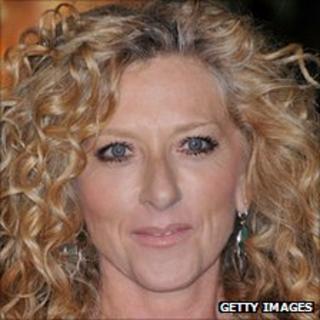 Interior designer Kelly Hoppen has accepted £60,000 in damages over the News of the World phone-hacking case.
Her lawyer told the High Court the settlement was for "misuse of private information and breach of confidence".
Ms Hoppen is the former stepmother of Sienna Miller, whose relationship with fellow actor Jude Law was of huge interest to the now defunct tabloid.
News International and News Group Newspapers agreed to pay the money as well as her costs.
Numerous articles published in the News of the World between 2004 and 2006 contained "intrusive and private information" relating to Ms Hoppen, her lawyer Mark Thomson told the court.
"The claimant did not know the source of this information at the time of publication and often could not understand how it was possible for the News of the World to obtain such private information," he said.
New evidence
"In 2009, as a result of the claimant's long held concerns, her solicitors, Atkins Thomson, wrote to the Metropolitan Police Service asking whether they had any evidence that the claimant had been targeted by News Group Newspapers Limited in 2004-2006."
He said his client was at first told the police had no evidence to suggest she had been a target, but that changed in February 2011 after further evidence emerged.
The court heard that News Group Newspapers admitted liability in April.
Michael Silverleaf QC, counsel for the newspaper group, told Mr Justice Vos that he wanted to repeat the "sincere and unreserved apology" made to Ms Hoppen in April.
Ms Hoppen is one of a number of celebrities and public figures pursuing civil cases against Rupert Murdoch's media group.
In January, the High Court is due to hear claims from a handful of test cases involving those who say their phones were hacked into.
They include former footballer Paul Gascoigne, Jude Law, sports agent Sky Andrew, and MP Chris Bryant.
The mother of a 7/7 bombing victim will also pursue a separate civil case against News International.
Sheila Henry's son, Christian Small, was killed in the 2005 Russell Square explosion.