London 2012 urges public's help targeting ticket touts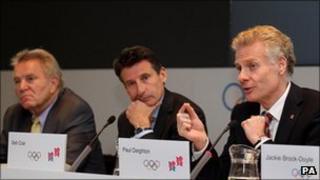 London 2012 organisers have called on the public to help them make sure ticket touts have "no room to move" at the Olympics.
The buyer's name would be on each ticket and that person was responsible for seeing it did not end up in the wrong hands, said Locog CEO Paul Deighton.
Some 8.8m tickets are available for the Olympics, and 2m for the Paralympics.
Mr Deighton said it was fine for people to give tickets to family or friends.
But he cautioned that if a ticket ended up in the hands of touts, the person whose name was on the ticket would be held responsible.
'Fine tuning needed'
"The person who buys those tickets retains the responsibility of making sure they do not find themselves - those tickets - as part of illegal activity," said Mr Deighton.
"If in the very unlikely circumstances there's a problem with the ticket we would expect the ticket holder to be able to get hold of the person whose name is on the ticket to resolve it."
Mr Deighton was speaking after a three-day review of London 2012's preparations by the International Olympic Committee (IOC) co-ordination commission - its ninth and penultimate check-up before the Games.
Commission Chairman Denis Oswald said he was impressed with London 2012's preparations so far, adding that just a little "fine tuning" was needed ahead of the Games.
Mr Oswald also said London 2012's opening ceremony must finish by midnight so that athletes could prepare properly for their events.
A three-time Olympian, he added that he had never attended an opening ceremony as he was competing the following day, and said athletes attending next year's opening ceremony would be able to leave early if they wished.
The IOC co-ordination commission received updates from London 2012, the British Government, the Greater London Authority, and Transport for London, as well as reviewing security and other areas.
London 2012 Chairman Sebastian Coe said that with just 42 Fridays until the opening ceremony, Locog was focused on "putting on Games the whole country can be proud of and a part of".
Britain hopes to send more than 550 athletes to the Olympics, which are scheduled for 27 July - 12 August.
Among the 8.8m Olympics tickets, 6.6m available to the British public have mostly sold out. About 2.2m are not on sale to the public but are being split between sponsors, the IOC, guests and hospitality partners, as well as National Olympic Committees.
Earlier this week, Prestige Ticketing - the company with sole corporate hospitality rights inside Olympic venues - said more than 60% of its 90,000 VIP packages for London 2012 had not yet been sold.
Increased fine
The Metropolitan Police has a dedicated unit - Operation Podium - to deal with touts and Olympic-related fraud. Established in June 2010 it had made more than 90 arrests by September 2011.
Earlier this year, the police sent letters to people who might try to illegally sell Olympic tickets, warning them they were being watched.
"Touts are part of organised criminal networks, often involved in other crimes, and we are committed to dismantling them layer by layer," said Assistant Commissioner Chris Allison, national Olympic security co-ordinator, in March.
At the same time, Home Secretary Theresa May raised the maximum penalty for those caught ticket touting at London 2012 from £5,000 to £20,000.
The increase would act as a "substantial deterrent to serious and organised criminal groups", she said.
People who wish to sell unwanted tickets will be able to use an official exchange system.