Discontented Anglicans confident of global backing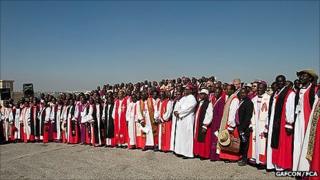 The worldwide split in Anglicanism over gay issues has become linked to the concerns of some Church of England members concerned at the prospect of women bishops.
The Anglican Mission in England (AMIE), which was set up this year, shares some global Anglican leaders' concerns over the gay question, but is also keen to help Anglicans who cannot accept women bishops.
And if it cannot reach agreement with the C of E, AMIE says members will look to the worldwide Anglican movement Gafcon for leadership.
Set up in 2008, Gafcon says promoting "a variety of sexual preferences" and blessing same-sex unions are part of a "false gospel".
Its leaders, mostly from Africa but including senior Anglicans from other parts of the world, hold their own meetings separate from the long-established Lambeth conference, and say they represent most of the world's active Anglican churchgoers.
AMIE insists that it is determined to remain Anglican. But it has its own panel of bishops, ready to provide alternative episcopal supervision to parishes which disagree with their diocesan bishop.
One, Michael Nazir-Ali, former bishop of Rochester, has said: "Only a few will need such oversight at the moment.
"There may be others if bishops... teach that same-sex relations are equivalent to marriage or are in same-sex civil partnerships themselves, and if no provision is made for those who in conscience cannot accept women bishops."
The Reverend Paul Perkin, vicar of St Mark's Church, Battersea Rise in south London, chairs AMIE's steering group.
He describes AMIE as "not a driving co-ordinating institution - we're simply providing the means whereby communication and support can be networked in a fellowship across the country. But it has become a little bit more structured."
He points to the support for AMIE from Gafcon leaders worldwide.
'Problematic'
"They have said, 'We affirm your resolve to ensure adequate provision for churches, parishes... and individuals, ministers who need adequate oversight, and if it is not provided within the structure we are committed to providing it ourselves.'
"AMIE has a very significant part of the global Anglican communion pledged to ensure that we remain Anglican," he insists.
Canon Chris Sugden is one of the founders of the Fellowship of Confessing Anglicans, the movement set up to further the aims of Gafcon. He is also secretary of the AMIE steering group.
He believes AMIE "has... crucially been supported and encouraged by the GAFCON Primates Council," and is saying to the Church establishment: "We will find a way of being faithfully Anglican which does not depend on you."
At the conference in June when AMiE was set up, three English clergy who had been ordained in Kenya for "ministry in the wider Anglican Communion" with the support of Gafcon were "welcomed and prayed with".
The Archbishop of Canterbury's office has expressed concern. A statement by Lambeth Palace said: "It is not at all clear how the proposed panel of bishops relate to the proper oversight of the diocesan bishops of the Church of England," and described the Kenyan ordinations of men with a view to service in England as "problematic".
Paul Perkin says discussions on securing acceptable supervision and paths to priesthood for those who have problems with the Church establishment have been going on for years and no-one should be surprised at what has happened.
But how does Gafcon - a body largely concerned with the gay issue - come to be involved in Britain in a controversy it has shown little concern about, that of women bishops?
Underlying disputes
Paul Perkin admits he sees the principle of women bishops as a secondary issue. But he is insistent that "provision should be made for those for whom it will be a breaking point.
"If some of our most active ministers in the Church feel they've got to leave then the mission of the Church is seriously undermined."
Chris Sugden says the gay and women bishops issues are "part of the same agenda to ensure that the Church of England is 'culturally relevant'".
But he adds: "There is genuine disagreement among people who accept the authority of Biblical teaching about the role of women in leadership in ministry, and neither group would regard the view of the other as sinful practice."
The legislation now being considered by the Church on women bishops includes provision for those who cannot accept them to be supervised by a stand-in bishop.
But many opponents want the stand-in bishop's authority to be independent, not deriving from appointment by the diocesan bishop (who may be a woman).
If that does not happen, says the Reverend Rod Thomas, chairman of the conservative evangelical group Reform, parishes under a woman diocesan bishop would have to decide what to do.
If the parish regarded itself as being "in impaired communion" with its bishop, he says, "whenever they needed the oversight of a bishop they would have to look elsewhere for it."
The setting up of AMIE has led to mixed reactions from the rest of the Church.
The Reverend Stephen Kuhrt chairs another evangelical group, Fulcrum, which views the setting up of AMIE with concern.
"I can see why conservative evangelicals are frustrated," he says. "What they suspect is that while the conversation's going on about it, the ground is shifting to a position of basically accepting gay clergy.
"But I just do not believe that the right response is sabre-rattling and creating of separate structures. I just don't think you can do that and remain with integrity part of the Church of England."
Canon Giles Fraser is the founder of Inclusive Church, the best-known group campaigning for the full recognition of gay lifestyles in the Church.
He says the AMIE project is "a complete irrelevance, actually".
"There really isn't any traction here, even amongst people who perhaps have more conservative views," he says.
"There's a deep loyalty to the Church of England and people are committed to the Church of England - as the original Big Tent philosophy."