The 'squeezed middle' speak of falling incomes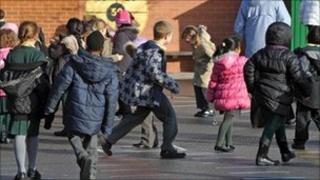 Three people from the "squeezed middle" describe the financial pressures they are facing, as a think tank says they are are set to experience the biggest income drop for 35 years.
Sean Ryan, 48, from Manchester, says he used to consider himself part of a middle-income family.
Earning about £40,000 a year until he lost his job in corporate compliance in 2010, Mr Ryan says the change in fortunes in that time has seen his family now living below the poverty line.
His wife is a teacher, but has taken time out from work to look after their young children.
Despite being well qualified, she has been told to volunteer at a school for at least six months before she can be considered for a job.
The couple have used up all their savings, and he says it is their children - aged three and five - who have taken "the biggest hit".
"We've struggled with buying them school uniforms and we can't pay for extras.
"They'd like to learn how to swim but we can't afford it," he says.
He says he and his wife have tried to "ring-fence" their children as much as possible, but have gone without food and are in arrears with their mortgage.
Mr Ryan says the problems they have faced are not just "middle-class worries", with the threat of repossession ever-present.
Added to that, Mr Ryan says, every time his wife needs a Criminal Records Bureau check it costs them £40 of their money - which he says represents 40% of their weekly income.
Mr Ryan has spent the past 18 months retraining as a music teacher, and is starting his own business working with children in local schools.
This time next year he hopes to be established in his new career.
Selling up
According to the Institute for Fiscal Studies (IFS), which compiled the report, median UK incomes will fall by 7% over the period 2009-2012 - which puts a figure on how much middle earners are being squeezed.
The IFS says the reduction in income is "an unprecedented collapse in living standards", due to a combination of weak earnings growth and high inflation.
The study suggests that the result of declining incomes will be an increase in relative child poverty - the biggest since 1999-2000.
Ulrike Clarke, 54, believes the only answer for her family is to sell up and trade their life in Suffolk for her home country of Germany.
"I have a feeling that here, no matter how hard we work, it just isn't financially viable for us as a family," she says.
Her British husband works as a college lecturer, and although due to retire next year, she says he will need to continue working to maintain a similar level of income for the family.
Mrs Clarke says that after having been at home with their children, she wants to find work - but the up-front costs of training as a teacher has put her off.
Mrs Clarke says the biggest drain on their income is fuel costs. Living in rural Suffolk means having to drive the children to school, while her husband's work is 12 miles away.
With one grown-up child living at home and two others still at school, Mrs Clarke thinks moving to Berlin will see them get more support.
She says that in Germany factors such as low university tuition fees of 200 euros (£174) a year and child benefit paid to non-working children up to the age of 25 will make a difference.
Narrow boat
The IFS is suggesting that medium-income households will not see their fortunes improve until after 2016.
Rob Pearson, 57, is a self-employed computer software writer from Newark, Nottinghamshire.
Having worked for himself for the past 20 years, he describes the last two years as a "nightmare", with new business getting harder to find while existing clients are cutting back and taking longer to pay.
While he struggles to pay for electricity and meet mortgage repayments, Mr Pearson says his family is also feeling the effects of the squeeze.
"I have three children aged 24, 22 and 21. My youngest only has occasional agency work and my eldest has a 'decent' job, but it's a 40-mile commute and he has to manage on around £1,000 a month. He still lives at home.
"My daughter went to university but lost her job offer when the recession hit. She then went to work for a call centre and has only just managed to get onto a graduate scheme."
Mr Pearson's response to the reduction in income is to consider selling their home and going to live on a narrow boat.
But what might appear to be a romantic solution actually angers him:
"Income is being eroded all the time," he says.
"The system seems to be set up to charge you money.
"And the poorer you get, the more you get charged for borrowing money. It's a bit like a whirlpool - when you're caught in it, you get sucked in deeper and deeper.
"We used to be a middle income family, but we're not anymore."