Australian cricket 'fix' claims rejected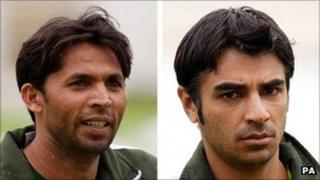 Court testimony suggesting Australian cricketers are the world's biggest match-fixers has been rejected by Australian cricket's governing body.
London's Southwark Crown Court heard on Monday that sports agent Mazhar Majeed had said Australians were "the biggest" when it came to rigging games.
Cricket Australia said the claims were "baseless and outlandish".
Cricketers Salman Butt and Mohammad Asif are accused of fixing parts of a Lord's Test match, which they deny.
The court had heard that Mr Majeed, 36, made his claims while talking to an undercover journalist.
Recorded conversation
The agent alleged that Australian players would fix "brackets", a set period of a match on which people bet on activity - for example, how many runs will be scored.
"The Australians, they are the biggest. They have 10 brackets a game," Mr Majeed said in a covert recording played to the court.
Prosecutors allege that Mr Majeed, from Croydon, south London, conspired with Mr Butt, 27, and Mr Asif, 28, to fix parts of the Lord's Test between England and Pakistan last August.
At the trial, which began in Southwark Crown Court last week, Mr Majeed also boasted to News of the World undercover reporter Mazher Mahmood that he knew US and British actors and sportsmen who could lend some glamour to a proposed tournament.
Mr Mahmood was posing as a rich Indian businessman seeking major international players for a tournament. He appeared in court behind a screen on Monday.
He discussed match-fixing with Mr Majeed on 18 August last year.
Mr Majeed said in the recording of that meeting: "It's been happening for centuries. It's been happening for years. [Pakistani cricketers] Wasim, Waqar, Ijaz Ahmed, Moin Khan - they all did it."
'No place for corruption'
Cricket Australia chief executive James Sutherland said he would speak to ICC officials about the claims made by Mr Majeed and said Cricket Australia would issue life bans to any players found guilty of match-fixing.
"There is nothing that I have at hand to suggest that these are anything but baseless and outlandish allegations," he said.
"I'm very confident that through my dealings with the ICC that if there was issues of concern, or players who were being monitored or looked at closely, that I would understand more about that.
"Cricket Australia has a very strong view about corruption, and that is there is no place for corruption in our sport."
He added that if there was any credible evidence against Australian players, "then we will work with the ICC to ensure that that is investigated with vigour".
The case continues.