Three terror suspects breach control orders - Theresa May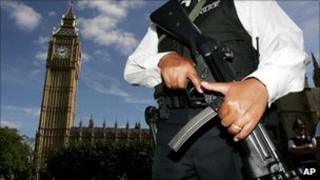 Three suspected terrorists were charged with breaching their control orders in the latest three-month period on record, the Home Secretary has said.
They "were charged with breaching their control order obligations" between 11 June and 10 September, Theresa May told MPs. She gave no further details.
Mrs May said the number of suspects on control orders had fallen from 12 to 11 since her last quarterly update.
The orders impose conditions on terror suspects' movement and communication.
Control orders usually involve a combination of electronic tagging to enforce home detention curfews, bans on using mobile phones and restrictions on visitors, and allow police to monitor the suspect.
'Focused and flexible'
Critics have suggested the regime is akin to house arrest and punishes families, as well as limiting the suspects' activity.
The orders are due to be replaced at the end of the year, when Terrorism Prevention and Investigation Measures are expected to come into force.
Mrs May has said the new powers will be more "focused and flexible", reducing the length of overnight curfew from 16 to between eight and 10 hours.
The controlee could also stay away from their home address if they have permission.