Roman Abramovich is a gangster, Boris Berezovsky says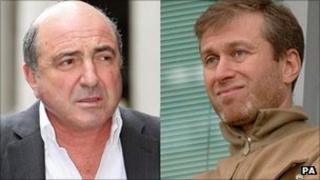 Chelsea football club owner Roman Abramovich is a "gangster", an exiled Russian oligarch has told the High Court in London.
Boris Berezovsky is seeking £3bn damages from Mr Abramovich for alleged breach of trust and contract.
He said Mr Abramovich forced him to sell shares in a Russian firm for "a fraction of their true worth".
A barrister for Mr Abramovich, who denies the allegations, said Mr Berezovsky was talking "nonsense".
Mr Berezovsky is suing Mr Abramovich over the sale of shares in a number of Russian companies since 2000, after he had left Russia following a falling-out with then President Vladimir Putin.
Speaking to the court in English, with the aid of a Russian translator, Mr Berezovsky said that at first Mr Abramovich had been a "messenger" for Mr Putin.
"Initially he [Mr Abramovich] put Putin in front of him," Mr Berezovsky told the judge.
"Saying, 'this is Putin, this is not me, this is Putin'."
He added: "[Later] he even didn't put Putin at all as a name because he already was formed himself, I'm sorry to say, as a gangster."
'Found out'
Mr Berezovsky, 65, told the court Mr Abramovich, 44, "betrayed" and "threatened" him into selling the shares in oil company Sibneft for "a mere $1.3bn (£800m)" - much less than he felt they were worth.
But Mr Abramovich's barrister Jonathan Sumption QC accused Mr Berezovsky of making up the story about being forced to sell the shares.
"You have simply been found out," Mr Sumption said. "Your story is nonsense."
Mr Berezovsky replied: "I completely disagree with your way of thinking and your conclusion."
Earlier, Mr Berezovsky had told Mr Sumption: "I change my recollection many times."
Mr Sumption replied "indeed you do", and added: "What is actually happening is that you have put these dates as being dates [a meeting] occurred.
"Each time you identify a date someone points out that you were somewhere else, usually on the other side of the world, so you try another date."
Mr Berezovsky told the court: "I really change many times my recollection because of information which comes to me."
He added: "I just present my feelings, my memory, my recollection. That is it."
Mr Abramovich denies the allegations and denies that Mr Berezovsky is entitled to damages.
He says Mr Berezovsky was paid millions of pounds for his services as a "political godfather" but was not a business partner.
The hearing, which is set to last two months, continues.