Riot burglars face longer in jail under new guidelines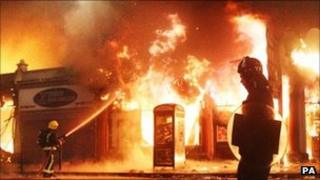 Burglars who break into homes or businesses during any future riots could face longer prison sentences under new guidelines issued to judges.
The Sentencing Council for England and Wales said recent disturbances had influenced new national guidelines on prison terms for burglars.
The body said judges had been broadly getting burglary jail terms right.
The new guidelines for magistrates and crown courts will apply to sentences handed down from mid-January 2012.
The council, which is charged with promoting consistency and transparency in sentencing, said jail terms should reflect the harm inflicted upon the victim rather than just the blame that can be attached to the offender.
But in the incoming guidelines, it also said that public disorder should be a relevant sentencing factor for judges if wider events play a part in somebody's decision to break into a property.
"Although the consultation closed before the disturbances in England in August, and responses did not therefore reference these events, the definitive guideline does take these events into consideration," said the council.
"The council recognises the damage caused and consequences of such events, especially for small businesses and shop owners living above or near premises, and has therefore included the context of general public disorder as a factor indicating greater harm caused in any burglary offence."
Serious impact
The chairman of the Sentencing Council, Lord Justice Leveson, is among the three Court of Appeal judges who will rule on whether looters have received appropriate sentences for their part in the August disorder.
Lord Justice Hughes, deputy chairman of the Sentencing Council, said: "Burglary is often not simply a crime against property but may have a serious impact on people whose houses or businesses are invaded.
"Those who burgle people's houses will normally go to prison."
The council had initially proposed restricting the sentencing range for non-domestic burglaries to between one and four years, reflecting the practice in most cases.
However, it said it had set the upper limit at five years based on responses to the consultation.
The guidelines say that burglars who use a weapon will always receive a custodial sentence which can reach 13 years.
Other burglars who break into homes should expect sentences up to six years - two years higher than previously proposed.
Judges should take into account the effect on the victim, such as where a householder is terrified to be in their own home after a break-in.
Although the guidelines set out detailed scenarios for judges and magistrates to follow, they are not absolute.
Criminals can be sentenced outside of the ranges in the guidelines where the court believes it is in the interests of justice to do so.