Inspectors raise concerns over women offenders risk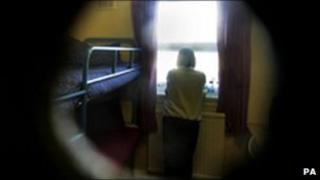 Women offenders who could pose serious risks to the public in England and Wales are not being monitored properly in the community, a report has found.
The report, by three criminal justice watchdogs, said only 28% of reports assessing the risks posed by female offenders were of sufficient quality.
A majority failed to "describe a plan to protect the public", it found.
The Ministry of Justice accepted the report, saying ministers would use the private sector to improve standards.
A spokesman said the government was overhauling community sentences to ensure they commanded public confidence and were better able to reform offenders.
Concerns over the female prison population, in particular the proportion who were single mothers or had drug or mental health problems, had led to a push towards community sentencing.
'Volatile'
Inspectors examined case files of 107 women offenders and an additional 15 pre-sentence reports across six probation trusts in England, as well as speaking to 28 prisoners in three jails.
They said trusts had largely created good systems to deal with women on community orders or released early from prison. And they praised the development of women's centres as a "great resource" for women likely to offend or reoffend.
However, inspectors found assessments of the likelihood of reoffending were sufficient in just 41% of cases.
The report, conducted by the Inspectorates of Probation, Crown Prosecution Service and Prisons, noting the sample represented a "volatile" group, said: "We did not find the level of attention paid to the individual women that their potential for serious harm warranted."
Key information, such as witness statements, was often not taken into account, while behaviour such as alcohol abuse or being a domestic abuse victim could be missed, it said.
The report said too many women were still serving short prison sentences for breaching community orders imposed for offences which would not normally, of themselves, attract a jail term.
Pre-sentence reports did not always promote community sentences as a credible option, the report noted.
'Lack skills'
And non-custodial options were not always credible to offenders, as shown by "lack of engagement and failure to comply with the basic requirements of their supervision" such as attending appointments.
"Some offender managers clearly still lacked the skills and knowledge to work with women offenders effectively," it added.
A Ministry of Justice spokesperson said the government planned to overhaul sentences with foreign travel bans, longer curfews and a full five-day week of community work, while ministers were considering using the market and payment-by-results to cut re-offending.
"Community sentences must be tough and demanding and command the confidence of the public," he said.
"By introducing competition to harness the skills of the private and voluntary sectors we will drive up standards and ensure taxpayers' money is not wasted."