Newspaper review: Papers alarmed by unemployment rise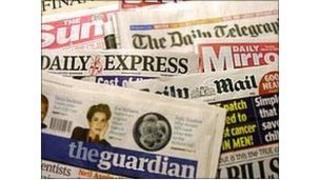 The rise in unemployment has triggered almost universal alarm in the papers.
The Independent says the increase among the young is "appalling" and risks a "lost generation" without swift action.
The government must stop wringing its hands and get on and do something according to the Sun, which says the UK needs boldness, imagination and energy.
A Guardian editorial suggests the government should learn from Franklin Roosevelt's Depression-era mantra: "Do something, if it works, do more of it."
Young workers
The Times urges the government to use what money there is to encourage companies to take on young people.
The minimum wage should be put on hold to encourage firms to employ more young workers, suggests the Daily Express.
The Daily Mirror accuses the coalition of dragging the country back to the "grim, workless days" of the last Conservative government.
The paper says it is "painfully clear" that David Cameron does not understand the misery of unemployment.
Darkening mood
The media pack continues its pursuit of Defence Secretary Liam Fox.
The Daily Mail reports that allies of Mr Fox tried to distance him from his close friend Adam Werritty - whom they dismissed as a Walter Mitty figure.
Whitehall insiders tell the Guardian the mood among the minister's circle of advisors is darkening, which is affecting the Ministry of Defence.
The Financial Times quotes a former mandarin saying that everything suggests this is a resignation issue.
Bedroom classes
The Daily Express reports that hundreds of thousands of women are to get a "lifeline" in the row over pensions.
It says the prime minister has vowed compensation for women in their late 50s who are due to be hit by the rise in pension age.
Finally, the Times has news of a safe-sex workshop for the over-60s which only four people signed up for.
The head of the Portsmouth Pensioners' Association said: "If you don't know what you are doing in the bedroom by the time you are 60, there is no hope."