LA police chief Charlie Beck at Home Office gang talks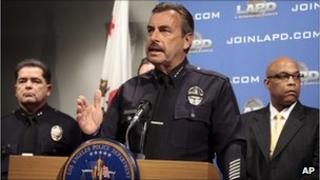 LA police chief Charlie Beck is among 40 senior officers and academics at a Home Office gang conference.
Home Secretary Theresa May invited him after his decades of experience as a gang officer on the streets of Los Angeles.
Mrs May will report to Parliament later this month on lessons learned about gangs in the wake of the August riots.
She is also consulting on giving police more powers to remove face coverings, curb swearing and impose curfews.
Mr Beck has flown to London especially for the day-long conference which will also hear from US "supercop" Bill Bratton who tackled gangs as head of police departments in New York, Boston and Los Angeles.
He says a "vacuum of public safety" allowed the riots to escalate.
Senior police officers and academics from Jamaica, France, Spain, Sweden and Austria will also be at what is hoped will become a lasting international network of experts on gangs.
'Traditional British freedoms'
Launching the consultation on greater police powers, the Home Office Minister James Brokenshire said: "We must ensure officers on the ground have all the necessary legal measures available to them to protect our streets and keep the public safe.
"But we must also make sure any new powers do not trample upon traditional British freedoms - that is why we are seeking public views on the powers the police really need to keep our communities safe."
The consultation will consider whether the use of insulting words should remain an offence amid concerns that the law is being used by activist groups and over-zealous police officers to undermine free speech.
Waste of time
In 2006, an Oxford University student was arrested for asking a mounted police officer if he realised his horse was gay during a night out with friends after his final exams. The charges were later dropped.
But Shadow Home Secretary Yvette Cooper said with police numbers being cut, Mrs May's consultation exercise was a waste of time.
"The police need strong powers to deal with disorder, but this consultation won't make any difference if there aren't enough police.
"As long as she is cutting 16,000 police officers and weakening police powers on DNA and CCTV, the reality is she is undermining the fight against crime and disorder."