91% decrease in use of terrorism stop-and-search powers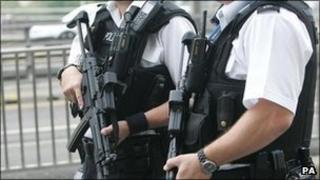 The number of stops and searches under anti-terrorism legislation fell by 91% last year after a European ruling.
Some 9,652 people in England, Scotland and Wales were stopped and searched on terrorism grounds in 2010-11, down by 92,852 on the previous year.
Only 77 were arrested as a result, and none of these for terrorist offences.
The fall followed a European Court of Human Rights ruling that prompted the government to announce the Terrorism Act powers would be curtailed.
The court ruled in January last year that the Section 44 powers allowing police to stop and search anyone for terrorist material in designated areas were unlawful because they were too widely drawn and open to abuse.
Sentence lengths
The relevant parts of the act were repealed and replaced by much more limited powers in March this year.
Police now have new anti-terrorist powers to search people, but they are far less wide-ranging.
The Home Office figures show 35 terrorist prisoners in England and Wales and one in Scotland were released from jails in 2010-11.
There were still 119 terror or extremism prisoners serving jail terms in England, Wales and Scotland.
Nineteen were released after completing sentences of over four years, with the remaining 16 freed after completing sentences of between one and four years. Four of those released were deported and one was repatriated.
No prisoners were discharged following the completion of life sentences.
Time limits
The statistics - covering the use of powers under the Terrorism Act 2000 - revealed that 121 people were arrested for terror-related offences last year, the lowest figure since 2001-02.
Earlier this year MPs and peers on the Joint Committee on Human Rights said additional safeguards were needed to ensure counter-terrorism measures did not breach human rights laws, even after the changes to police powers.
The committee said the move did not go far enough to ease concerns raised originally by the European court.
The changes introduced by Home Secretary Theresa May mean an assistant chief constable must authorise a stop-and-search order before it goes for approval by the home secretary.
There are also strict time limits regarding the use of the order.
Crime and Security Minister James Brokenshire said: "We know we face a real and serious threat from terrorism. The government is determined to prosecute and convict those involved in terrorist-related activity wherever possible.
"The figures released today demonstrate the hard work of the police, agencies and Crown Prosecution Service in keeping us safe from people who wish to harm us. I commend the law enforcement agencies for this work."