Road sign review moves announced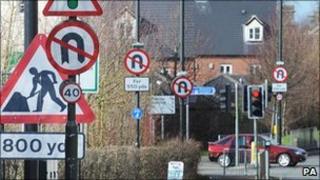 Plans to improve the "jungle of signs" on Britain's roads following the biggest review in 40 years have been announced by the government.
It hopes to reduce the number of signs councils need to use by removing the requirement for some signs.
New signs include one warning lorry drivers of unsuitable roads to help prevent them being misled by sat-navs.
It aims to cut red tape by allowing councils to place some signs without needing government permission.
Councils will be able to use innovative measures such as pedestrian crossing "countdown" timers without needing central government approval.
Other changes include measures to improve cycle journeys by allowing journey times as well as distances to be added to signs on cycle routes.
'Expensive clutter'
Transport Minister Norman Baker said: "We are cutting pointless bureaucracy, giving councils more freedoms, and updating our signs for the modern era.
"Sometimes, the jungles of signs and tangles of white, red and yellow lines can leave people more confused than informed.
"This expensive clutter can also leave our roadsides looking unsightly and unwelcoming, so the changes I am announcing will help councils cut the number of signs they need to use."
He went on: "We will also be allowing councils to use different ways to get information to drivers, encouraging them to question whether some signs are needed at all and publishing new advice for councils to help them reduce clutter on their roads.
"We want to make sure that there is consistency across the country while allowing local authorities greater discretion in how they use signs on their roads rather than demanding they get approval from Whitehall for signs they need to use regularly."