Brent Library closures: Protesters vow to appeal ruling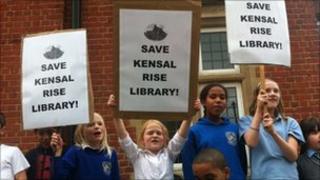 After campaigners lost their High Court bid to save six libraries in north-west London, protesters gathered outside one to make it clear the decision would not pass without a fight.
The dust had barely settled on the High Court's decision to rubber stamp the closure of six north-west London libraries.
And yet within hours their doors were padlocked and the services looked to be lost for good.
Following the ruling, the head of the Brent Libraries SOS campaign, Margaret Bailey, urged the council to "take time" to close the doors.
But it appears that plea fell on deaf ears.
By lunchtime the large wooden doors at the 100-year-old Kensal Rise Library were padlocked, and a note simply told library-goers: "Closed until further notice."
Shortly after, campaigners said, workmen moved in in a bid to board up the building. As they did so, however, a band of more than 100 protesters gathered, among them many placard-waving schoolchildren chanting "Save our library".
The police were called, but despite their pleas the protesters refused to budge. The workmen were forced to leave without completing their job.
Even as the light began to fade on Thursday evening, the vociferous campaigners remained outside their much-loved library. And the sentiment was clear.
"It's very disappointing but it's not the end of the fight," said mother-of-three Paula Gomez, 38, one of the lead campaigners.
Mrs Gomez said the bid to save the library began a year ago and much of the community had been involved.
High-profile campaign
Since then campaigners have raised more than £35,000 towards legal costs, held weekly meetings, won the backing of high-profile authors, and even come up with a business plan to save the beleaguered service.
"The core team has been 12 to 15 people but it has involved the whole community," said Mrs Gomez, mother of Oliver, five, Pablo, four, and Tom, one, who lives a matter of minutes from the library and works in financial modelling.
"We have 60 volunteers who are ready to run the library right now if only we were allowed."
The building was handed to the community by Oxford University's All Souls College to be used as a library and it has existed as such for more than a century.
The decision to close it now means its ownership reverts back to the university, campaigners said, but they are yet to hear its decision.
Orange Prize nominated author Monique Roffey is among the authors concerned at its closure. Others have included the likes of playwright Alan Bennett, children's author Jacqueline Wilson and best-selling author Philip Pullman.
"It's been a huge effort locally - it's been a massive campaign led by writers and people in this area," said Ms Roffey.
"It's a dramatic loss.
"It's completely incomprehensible when this library is so well-used and well-loved. What are they thinking? Why is this library closing?"
Mother-of-two Shona Elrick, 47, an art therapist, described the decision as "awful".
"It's quite a surprise - it just seems very sudden and quite shocking that it's going to be boarded up," said the mum to Annie, 11, and Ewan, seven.
Ewan said he was "sad" because "I like to get out the Roald Dahl books like The Witches."
Mary Lambert, 45, a health and safety officer at a housing association, said: "It's been a community effort for the last year so I actually felt quite tearful when we heard the library was going to be boarded up.
"There are cuts in all areas but this is very visible and concrete. It symbolises all the cuts that are taking place.
"We just don't know what's going to go disappear from our lives. It makes you feel very unstable."
Her children Joyce, eight, Evelyn, seven, and Christian, five, all use the library, and Joyce explained: "I don't think the library should close down because children need to be able to read new books - there's no bookshop around here."
Devastating decision
Marion Paul, 67, a retired teacher, said: "It think it's a very sad day for them to be closing down this local library.
"It's been here for more than 100 years and has real historic importance. It was opened by Mark Twain in the 1900s.
"There's a school around the corner and families come here - it's a nice place to be. There's also other activities like crochet and knitting groups.
"The staff were only told this morning that it would close so it's pretty devastating."
She added: "Brent (Council) have refused to listen to any of the ideas that we have put forward. It feels like they didn't want to know."
Mrs Bailey, head of Brent Libraries SOS, said the judgment was a big disappointment and people were angry, but confirmed the group would appeal the decision.
As schoolchildren continued to chant, she said: "What Brent (Council) is doing is not a reasonable or sensible thing but the feeling is that this is just another phase in our campaign."
"I haven't heard anyone say 'It's all over, let's give up' - you certainly can't shut these kids up."
The council's lawyers had argued the decision was "rational" and Councillor Ann John, leader of the Labour-run council, welcomed the decision.
But the area's youngsters certainly don't agree.
Their feelings of confusion and upset were summed up when one young girl approached me and said: "Excuse me, do you know where they have taken our books?"
Thursday's hearing is being seen as a test case for other campaigners across the UK fighting to keep 400 libraries open.
It remains to be seen if the judgement marks the beginning of the end for many of these services.