Newspaper review: Ministers under scrutiny in papers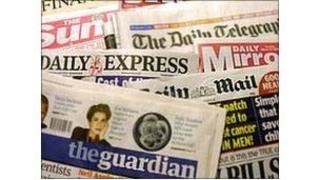 Lobbyist Adam Werritty's links to Liam Fox are still getting wide coverage.
The Times names some of the donors it says helped fund Mr Werritty's "jet-set" lifestyle alongside the defence secretary on several overseas trips.
The Daily Telegraph claims they were at a fundraising dinner in Washington last year with defence industry figures - which was not declared by the MoD.
And Mr Fox's right-wing allies will invite him to make a special address next week, according to the Guardian.
Pension age
Cabinet Office minister Oliver Letwin comes under scrutiny in the Daily Mirror after admitting dumping government papers in park bins.
The paper describes his behaviour as extraordinary and reckless.
The Daily Mail's lead story says the state pension age is to rise to 67 several years earlier than planned - and possibly as soon as 2025.
The Guardian leads with what it calls the endgame of the war in Libya - and the fate of the key city of Sirte.
Diet doubt
Wayne Rooney's three-match ban by football's European governing body, Uefa, is the Sun's main story.
It says the ban for a foul during England's game with Montenegro last week looks like vindictiveness.
The Daily Star is not impressed with the government's new strategy for tackling obesity in England.
It says the smartest minds spent months looking for a way to deal with it, and revealed their incredible solution - eat less.
Volcano fear
The Daily Telegraph says villagers who formed a housing campaign group are re-thinking their name after being told the acronym RAPE was offensive.
Ryde Against Pennyfeathers Encroachment was launched by residents on the Isle of Wight earlier this month.
The Daily Mirror warns that scientists believe another volcano in Iceland could be about to erupt.
Finally, the Sun says Tesco gave a huge discount on Terry's Chocolate Oranges - because of a computer blunder.