Newspaper review: More economic doom and gloom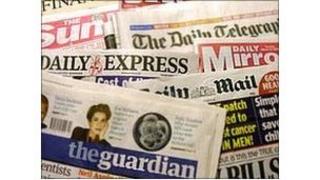 The papers are full of gloom on the economy with the Daily Telegraph reporting a Lloyds TSB survey which suggests one in 10 people cannot meet their monthly outgoings.
The bank surveyed 2,000 of its customers and found almost half said their financial situation was tight.
The Times says the eurozone debt crisis could expose Britain to the worst unemployment levels for 30 years.
"The economic outlook could hardly be more daunting," says the Daily Mail.
Women are deserting the Tories "in droves" - according to The Times - as the economic pain hits home.
Tory party researchers found millions more women than men feel the economy is heading in the wrong direction and are suspicious of the coalition.
As the Liam Fox affair widens into a debate about lobbyists, the Guardian publishes figures suggesting ministers held 1,537 corporate meetings.
The Independent claims Philip Hammond has links with one of Mr Fox's backers.
But a spokesman for the new defence secretary tells the paper that hospitality he received was properly registered and above board.
Guardian readers have been having fun at the expense of Blackberry after its recent server meltdown.
"If iPhones go down as well one of them can we look forward to the headline: 'Blackberry and Apple crumble'?", one of them writes.
The Daily Mail tells how a woman travelling on the London Underground was approached by a stranger who complimented her on her beautiful baby.
The woman, who had recently moved to the capital from India, did not recognise the stranger, who turned out to be David Cameron.
The Sun prints a letter from an inmate at a Dorset jail in which he says: "I have a TV and it's very relaxing."
The Sun is outraged by the letter, which goes on to praise snooker, pool, table tennis and rock climbing activities at the prison in Portland.
Finally... it turns out Vincent Van Gogh may not have committed suicide.
The Times reports on a new book that says the 19th Century Dutch master was in fact shot by a French teenager with a Wild West obsession and a faulty gun.