UK pilot reported dead in Switzerland plane crash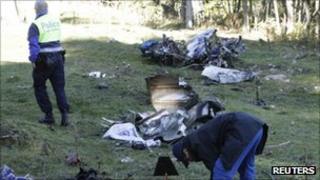 The Foreign Office is investigating a report that a British pilot and his passenger died in a plane crash in Switzerland on Friday morning.
AFP news agency said air traffic controllers lost contact with the Piper plane 30 minutes after it took off from Colombier for Amiens, in France.
A helicopter search later found wreckage near Lake Neuchatel, AFP said.
A police spokesman said the pilot, 29, was a UK resident. The nationality of his passenger, 40, was not yet known.
The Foreign Office said it was aware of the report and was looking into it.
The cause of the crash was being investigated, AFP said.